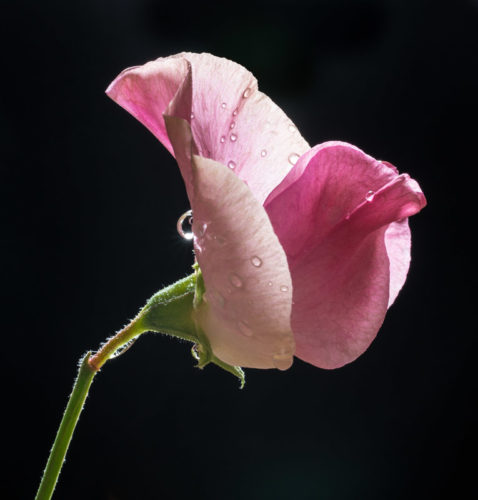 My weather app told the truth, but not the whole truth.
Today began with the wet stuff falling from the sky. There was no point in going anywhere in the morning at least, because it rained all morning. Heavy rain, light rain, drizzle and then back to heavy rain again. Wet, life giving rain. As Scamp said, it's good that it's not just torrential rain all day. That would just run off the garden and down a drain somewhere. The drizzle soaks the ground and gives a chance for the heavier rain to be somewhat absorbed, then when the ground becomes overwhelmed by the heavy rain, the drizzle gives it time to become completely absorbed by the grass, plants and soil. Sensible rain.
By afternoon I was becoming tired of the rain. Ok, it had done its job and watered the garden, but I wanted to go out and take photos. I couldn't enjoy doing that in the rain. I gave in and brought the garden into the house. Well, a little bit of the garden. One sweet pea on a stem. I set up a little studio in the back bedroom with a black tee shirt as a backdrop, two clothes pegs holding up the stem and my camera on a Gorilla Pod. Managed to get low ISO shots that way of the sweet pea and the texture of the raindrops to give it some life. Couldn't quite get the right angle on the flower head, but I got the sharpness I wanted. Good enough, I think.
We'd decided earlier to have a 'filling lunch' and a late dinner because we were going to a salsa social in Paisley. On the way in we were watching a BIG black cloud draping itself over the Campsie Fells and by the time we reached Glasgow it had descended on us. Rain wasn't quite torrential, but it was heavy. Social was fun, but I was cautious as my leg was feeling good since Thursday and I wanted it to stay that way. When we left La Rambla, an hour and a half later, the sun was shining again from a clear blue sky. Well, that was two seasons in one day!
Watched Vettel flouting the rules again in the Hungarian GP. If he did that on the open road, he'd be arrested. Maybe he should be. Anyway, what does it matter to me? Will it change the price of fish? I doubt it.
Tomorrow? No plans, but it looks wet in the morning and better in the afternoon. Might take my bike for a run in the car, and then a run in the country. We'll see.