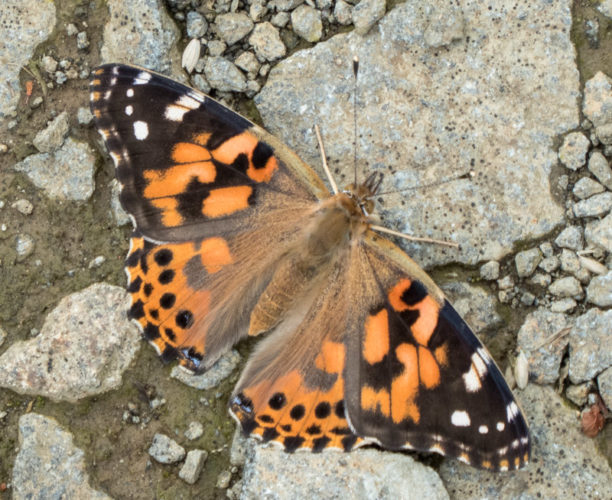 I wanted to take my bike out today, but off-road, not on-road.
I'd seen a bloke down at Auchinstarry with a Juke, casually sliding his mountain bike into the car once the back seats had been folded down. I knew the car had a good big boot, but the secret to the ease with which he could carry his bike is that once the seats are folded down, the raised boot deck provides a flat surface from the rear of the car to the back of the front seats. If he could do it, so could I. I forgot that he had a mountain bike and I have a hybrid. His wheels are just that bit smaller than mine. That meant I had to remove my front wheel to make the bike fit, but fit it did. I also had to cover the folded down back seats with a sheet of heavy duty polythene that I found up in the loft. The main thing is it worked.
Cycled along the railway path almost to Twechar, then took a right turn and cycled along a rough track through some fairly recently planted trees out almost to Queenzieburn and from there back to Twechar. From there I went along the canal to the steps to Shiva Pend which is a tunnel under the Forth & Clyde canal to allow a burn to run down to join the River Kelvin. It's a strange wee place which was built apparently in the 18th century. Wandered around there watching tiny wee trout trying to catch flies while I was trying to take some photos. Climbed back up to the canal and realised that it was beginning to rain. Down at the pend the overhanging trees had given some shelter, so I hadn't noticed the rain. I decided that would do for today and headed back to Auchinstarry along the canal and passed four blokes in two canoes. Crossed over at the Plantation where I got today's PoD which is a Painted Lady butterfly sunning itself on the warm stones. I thought I'd avoided the rain, but then it came on with a vengeance and I got back to the car just before I got completely soaked. Bike dismantled and back in the car then up the road.
Scamp made dinner tonight while I got ready to go to salsa. Salsa was all twists and turns and awkward moves which didn't do my poor wee knee any good, but I survived and it feels a bit better tonight. Tonight's move was called Venezuela. Jaime would approve.
Tomorrow we have no plans, but the weather looks wetter than today.