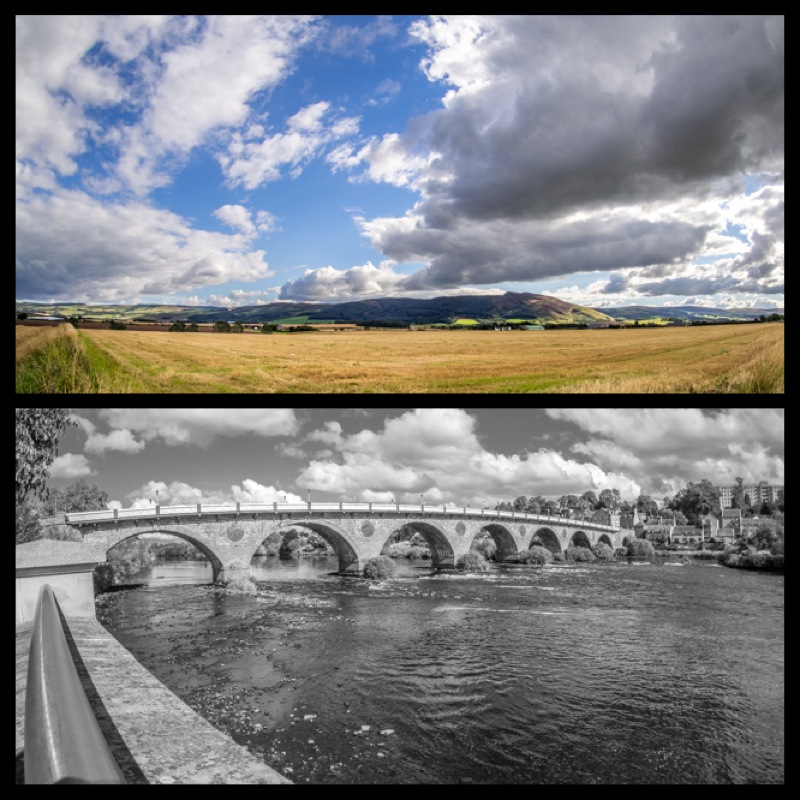 Off to Perth today. Poor weather predicted, but aside from some misty, foggy stuff before we left, it looked good. Arrived in Perth in sunshine too. I'd broken my favourite watch's strap on Monday and I wasn't totally happy with the substitute watch I'd found. Last night I searched for and found my old Pulsar which has a metal bracelet, so that's not going to break very easily. Unfortunately it needed a battery, so on my list of to-dos today was a battery for said watch. Scamp recommended Timpsons for the replacement. I eventually found Timpsons shop in Perth more by dead reckoning than by using my iPhone which couldn't get a 3G signal in the centre of the town. All the phone companies are busy offering 4G-ready phones. Not much use when there's not even a 3G mast nearby. Maybe it would be ok in Engaland (sic), but in Scotland it's a no-no. Anyway, the nice man in Timpsons changed two batteries, yes TWO, one for the digital side and one for the analog apparently. I could say that he did it in double quick time, but that would be a pun too far 🙂 It's a heavy watch, but at least I can read it without peering at it and the strap won't come apart very easily. Sorted!
Lunch at Café Tabou was good, but the service, for once, was very poor. If this had been our first time at this restaurant, I don't think we would have been back. The waitress made the excuse that one of the cooks was off and she hadn't been able to get a replacement. What she really meant was the check had got missed in the kitchen. It happens. She did give us a discount on the bill which more than made up for the wait. Which reminds me, I had emailed Zizzi head office about the pulled pork pizza with the invisible pulled pork and yesterday I got a £30 voucher and an apology. Squeaky wheel … grease. Next on the list is an email to Vodafone about the service at their Glasgow shop. Maybe I'll get a free iPhone 6s for my trouble!
Took some photos in Perth round about the bridge over the river and then stopped on the way home I took some more of the corn fields just outside Blackford. The 9mm lens makes beautiful skies.
Salsa at night, but our usual teacher still wasn't back from his sojourn to Engerland (sic again – and I was). Teacher was dire. Luckily there were too many men and I managed to exempt myself from the proceedings and sat out the first class. Scamp called it a day after that class and we went home. Let's hope JG is back on Monday.