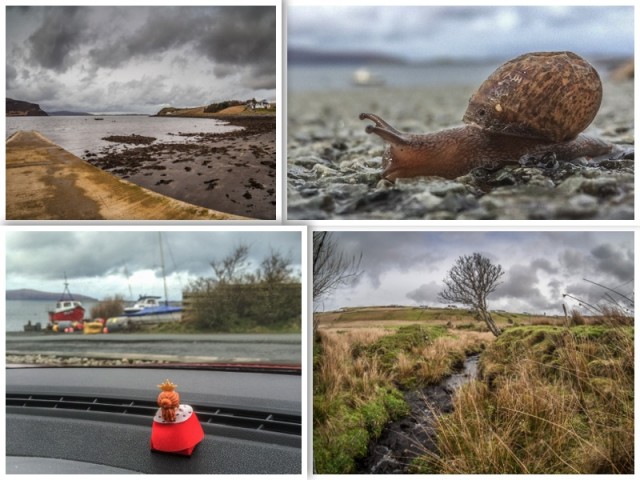 Today is my birthday and the kitchen didn't switch on the extractor fans at 6.00AM or crash bang the aluminium trays to celebrate that fact.
We drove round the top of the island and over to Waternish. Rather than go on to Trumpan, we dropped down to Stein. Stein is a tiny wee village of about half a dozen houses and the famous Stein Inn. Google it.
We sat and watched the world go by for a while and the Queen sat and watched too. The Queen was a Lego minifig and was a birthday prezzy from Hazy. She had sat on our dashboard, taking in the sights from Staffin to Stein. The Queen is probably the cutest birthday prezzy, but the strangest must be JIC's solid tapered lump of cocoa for making hot chocolate, carefully described by him as "Not a suppository" on its label!
I went for a walk down to the slip and saw the scene that I'd painted three times in different media. The actual picture. It's a whitewashed cottage on a spit of land sticking out into the sea. On the day I first photographed it, it had a line of washing blowing in the wind. Today there was no washing, but what I noticed was that the building was two storey. I'd always painted it as a single storey building. Sometimes imagination is better than fact. The two storey building just didn't look right. On the way back to the car, I spotted the snail. It was making a bee line (should that be a snail line?) for the other side of the footpath. It was travelling straight as a die and moving at a fast snail's pace. However I was worried that he would get crushed under someone's feet once I'd gone, so the least I could do was give him an airlift to the other side and placed him carefully in the undergrowth.
We drove back to Portree, the capital of Skye. There we went to Cafe Arriba for lunch. Macaroni for Scamp and Lamb and Chorizo burger for me. Brilliant! Drove back up the single track and double track road to Staffin and went down to the beach and watched the tide come in before we went for a walk on the beach.
Back to Jackie and Murd for dinner, then a dram or two in front of a coal fire. Brilliant end to a Brilliant day.