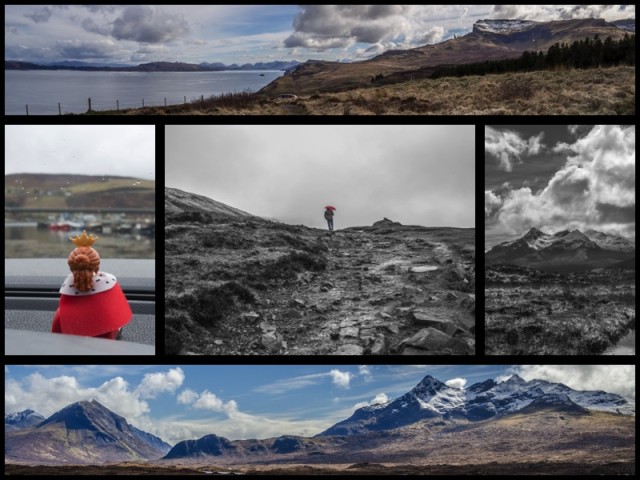 Drove over Quiraing to reach Uig, then down the west side of the island to Portree. Stopped for a while at the top to take in the view and to grab some photos. I liked the style of the Indian bloke with his pink umbrella striding off across the footpath round the edge of Quiraing.
Had lunch at Jan's Vans new café and also took on some petrol further down the road. Then we made our leisurely way to Sligachan to photograph the Cuillins which were looking quite dramatic after some overnight snow. Snow in April. Not unheard of, but after the fairly temperate winter we've had, it was not really expected. I got another painting done and was quite pleased with it. Just a medium sized sketch, but not timed this time. We made a really relaxed afternoon of it sitting in a lay-by off the main road with just the beautiful mountains and hills around us. Weather was kind with lovely sunshine and very little wind.
When we got back to Staffin I dropped Scamp off at the house and then headed down the slip. The place was quiet so I got to walk across the bog and on to the limestone pavement section and got a few shots, but not many. It was nice to sit there in the quiet and listen to the waves crashing and the birds singing. Sometimes that's worth more than the dramatic scenery, but the drama helps too.
Remember, the mosaic at the top sometimes shows only part of today's images and always at a reduced scale.  Click on the mosaic to be transported to my Flickr page.
Off home tomorrow.