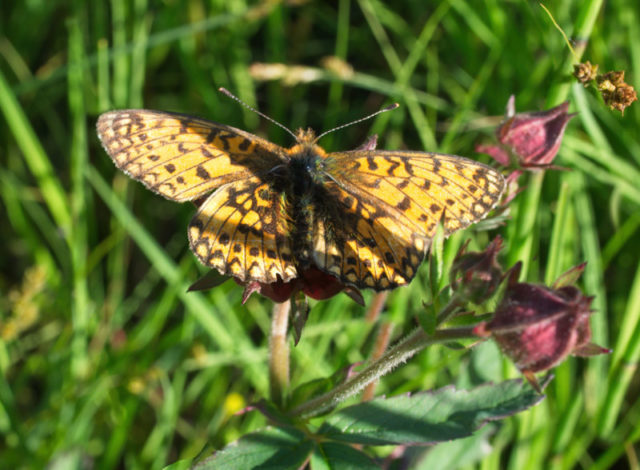 Actually it was Midsummer's Day.
Today was a day for getting out, driving somewhere scenic and taking lots of photos, so we did none of these things. Instead, we lazed around all morning, then Scamp went out to meet the Witches for lunch at Milano Express. I had a meagre lunch of toast pizza, which to the uninitiated is a slice of bread with drizzled olive oil toasted both sides under the grill, then spread with the remainder of a tin of tomatoes on one side covered with cheese (preferably Mozzarella) and toasted to within an inch of its life. It's actually very nice!
Afternoon was spent cutting out the pattern for a waistcoat that Scamp had bought for me last Christmas. It's tricky cutting out the extremely thin tissue paper these patterns are printed on. Scissors are a bit slow, the rolling Alfa cutter is fast but inaccurate but the scalpel is almost ideal. That's what I used, the scalpel. With the six pieces cut out and pinned to the wall, I felt in charge of the situation for the first time since I opened the pattern. Next I read, re-read, made notes and re-re-read the vague instructions written in a language new to me, using words like darts and pin-tack and selvage. I waited for Scamp to return from her lunch date to explain them to me and to bring me food in the form of a meat-feast pizza.
After I'd consumed the pizza and interrogated Scamp to find out what I was expected to do to assemble this waistcoat from the pieces of cloth, because it appear that the pattern is not the actual waistcoat itself, but just a jigsaw puzzle that you use to help create the pieces of cloth that in turn must be sewn together to make the aforementioned waistcoat. Who knew that waistcoats were so complicated? After having had that explained I went out for a walk to St Mo's to find some photos. What I found was the Small Pearl-bordered Fritillary you see here and it was PoD. I was playing around with the machine-gun like sequential shooting setting which fires off five frames per second in total silence for as long as you hold the shutter button down for. Forty odd frames in my case. All done in eight seconds. Try doing that with your Practika Nova!! From those forty odd frames I got one sharp one, well, two sharp frames that were seamlessly welded together to make the photo you see here.
Back home there was nothing worth watching on terrestrial TV, so I watched another episode of Good Omens on Prime. Great entertainment!
Hopefully, tomorrow we'll go out somewhere scenic and take lots of photos.