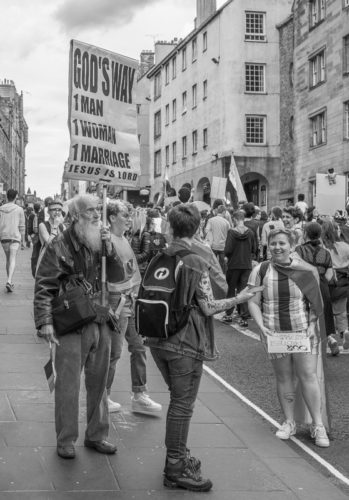 We'd both had it in our heads to go to Embra today, but it wasn't until Scamp said "Right, let's go to Embra" that the idea became a plan.
We headed for and caught the 10:12 train to Embra. Got off at Haymarket and walked along Shandwick Place, past some Oor Wullies, hoping to get coffee in Nero. Unfortunately, other people got there before us and there were no seats left, so, so did we. We left. Walked up to our usual Nero on Lothian Road and were welcomed with open arms, because there were loads of empty seats. We even got a window seat so we could watch the world, or at least the Embra world, go by.
Suitably refreshed we walked up through the Farmers Market stopping only to buy a couple of hogget leg steaks and a chump roast for my dinner tomorrow. No doubt Scamp will have a piece of salmon instead. On past more Oor Wullies only one of which was good enough to be ranked beside Glasgow's versions. Embra folk are too 'po faced' to fully commit themselves to the topic of humour, especially street humour. Yes, they have the 'festival fringe', but that's really just a bunch of foreigners (i.e. not Embra folk) who are to be tolerated rather than encouraged. Anyway, I digress as I usually do. We walked up through the Grassmarket and on to the Royal Mile. Today was the Embra Gay Pride March. We simply followed the throng to find the weirdos.
The weirdos in question were gathering at the the bottom of the Royal Mile outside the parliament building. That's the first time I've actually been to the parliament building and I must say, reluctantly, I was impressed. It is an interesting building and I think now I'd like to see inside. After all, I helped pay for it. I wonder where the bit I paid for is. Would I be able to see it? Would it have a wee plaque saying "DC paid for this bit of skirting board." That would be nice.
Back to the weirdos. Scamp reckoned that the majority of the LGBTIs were under voting age. I'd say so too. Mostly opinionated school weans who don't fit in with the 'big boys and girls' but want to be in a group who are 'different'. All the group are different in the same way. Boys who want to be girls and girls who want to be boys, but they all want to be different and still be the same. Would they all be happy to be called homosexuals rather than 'gays'? I get the L and the G and the B and even the T, but what in the name of the wee man is the I. I think it stands for "Isnae Sure". Anyway, as it turned out, this was a refined Embra Gay Pride. Nobody really gave the impression that they were out to have fun. They just marched slowly up the Royal Mile. My PoD was a wee man who stood defiantly with his sign and ignored the children who posed coquettishly beside him. He looked dignified and stoic. They just looked like the spoilt children they were. Mummies' little darlings. I didn't agree with his religion, but I did applaud his courage.
After watching the boring march we went for lunch in a Turkish cafe where I had a Falafel, Peppers and Hummus wrap with a salad and Scamp had Sweet Potato and Smoked Haddock Fishcakes with a similar, but slightly different salad. Food was interesting, but coffee was black and pretty tasteless. Pity. However we left with some Baklava for me and Borek (Spinach and Goat's Cheese in Filo) for both of us.
Train home and then sat in the garden, in the sun for an hour with a G&T to toast the day.
Alex sent me some disturbing news that Craig Fell, whom we both knew had died while on holiday in Greece. He'd thought it was a spoof at first, but then Gillian had confirmed it. Such a sad time for Uncle Herb and Auntie Maisie. Craig could be an absolute eejit at times, but always had a smile on his face. He'd never do anyone a bad turn. A loss to Larky.
Tomorrow we have no plans, other than a bit of shopping, maybe in Glasgow.