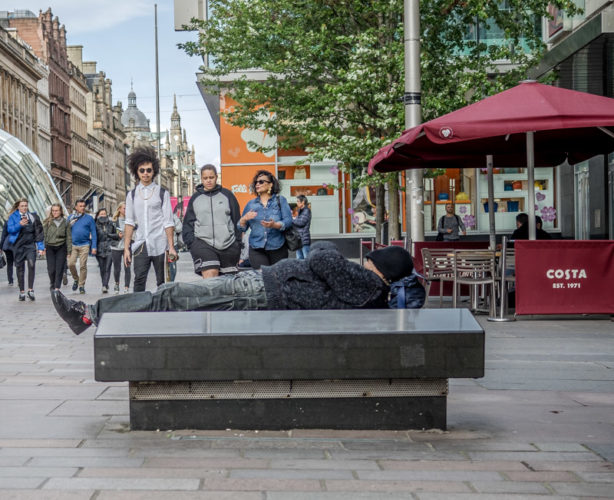 With a beer and a pie!
Last week, Scamp and the other witches went to see A Play, A pie and a Pint at Òran Mór in the west end of Glasgow. This week we watched a documentary about the P,P&P. Last night we watched one of the plays on TV. Today we were going to see the full thing.
The play was 'From Paisley to Paolo' and despite some 'adult language', I distinctly hears Scamp laughing part way through. I blame the witches for encouraging such debauchery. For £15 you get a mutton pie (quiche is available for non carnivores), a pint of any beer available at the bar (I had Guinness) or a glass of wine and an hour long play seated in the most uncomfortable seats ever created. The play only had three actors, but they played their parts so well, you never really noticed. The storyline was a bit silly, but again, you never really noticed. The repartee between all three actors made it all believable. I can't remember the last time I was at a play, but I'd go back to Òran Mór again to see another one, only I'd be more circumspect in my choice of seat next time.
Subway back in to Glasgow proper and into Cafe Nero for a coffee. Next up was a look at the newly christened An Unexpected Gallery which used to be The Unexpected Artist in St Enoch's. A variety of interesting photographs and paintings. Some simplistic and some very sophisticated. We were both drawn (no pun) to the coloured pencil drawings of dogs. Now neither of us are 'dog people', but the skill and level of detail in these drawings was incredible. It was outside St Enoch's, however that I got PoD. I don't know who this bloke was or what he was doing, but it must be the most uncomfortable place for a wee snooze!
A wander round CassArt for me and Next for Scamp and we got the No 37 bus home. I deliberately didn't want to get the X3 because due to roadworks outside Moodiesburn, the bus takes an extra 15minutes to complete the circuit of Moodiesburn on the way in to Glasgow and I was pretty certain that it would take that same route on the way back home. I wouldn't have minded, except we hadn't brought anything to eat on the journey which would take around two hours now, or at least feel like it had. The second reason was that we could stop at the chip shop and grab a fish supper each on the way home. Good planning. That's what we did. A Play, A Pie, A Pint and a Fish Supper. What could be better than that?
Tomorrow, Scamp recommends a bracing walk somewhere nice.