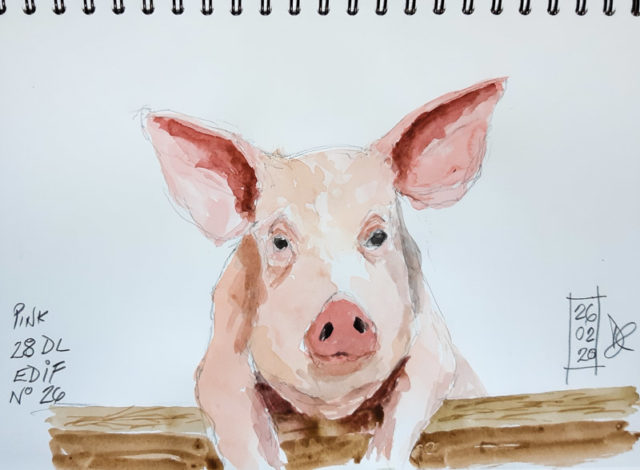 Well, I predicted it would be a busy day and for once I was completely … right!
Scamp was out in the morning to see Isobel. No coffee shop for them today Isobel phoned to ask her to come to the house instead. Too cold and with her dodgy knee, Isobel that is, she decided she'd stay at home. Quite right, I say.
While she was out I mused over what to do to cover today's prompt, "Pink". I eventually settled on a Pink Piglet, and so today's sketch was born. Of course, if I'd been on the ball I'd have painted him on a page of my Pink Pig sketch book, but instead he's on a page of the Seawhite sketch book! To start with he began to look more and more like a prominent politician, but then he began to mature into his piglet form. He's based in part on a little piglet I painted in art class on a cruise a couple of years ago. I tried to remember all the tips the artist gave us, but after a while I just painted and it worked.
When Scamp returned, we had a swift lunch of toasted cheese on my salt and pepper bread then we were off to Falkirk Town Hall to our first Tea Dance. After 20 minutes and an aborted Saunter Together sequence dance I was ready to throw in the towel and go home, but Scamp was determined and we did get to do one of our jive fallbacks, the Seven Spins next. After that my mood lightened. At the tea break halfway through the two hour dance, a couple of people spoke to us, before that they'd been sizing us up I think. By the end of the tea break they knew we were beginners and started to encourage us up on to the floor and we started learning some of the sequence dances. Music was provided by a bloke playing a Korg keyboard and singing along to it. Perfect for us because the tracks were short enough so if we made mistakes, there was another tune along in a minute or two and we could make a sharp exit. All in all it was a success and we're looking forward to the next one in a month's time.
Back home, I finished the painting, photographed it and posted it. That was the only photo I took today. It was a clear day for the most part, but just after I'd posted the photo the snow started falling. It didn't last, but for a while it looked as if it was on for the night.  As it happened, it was on and off all night. Next on the busy list was Wednesday dance class were we reprised the Quickstep from Monday and now it's more firmly in my head. Not perfect yet and difficult to practise in our living room, but all the figures are now there and in the correct order, it's just the details of the figures, the steps that need a bit of correcting. It will come. We finished with a Rumba One which we had been learninAnnoying loud music from the pub we practise in. I get the feeling some of the locals aren't too pleased at our incursion into their territory. Hopefully Kirsty will find somewhere with a rectangular room and less noisy neighbours soon.
Today was a great help. Dancing on a dance floor among enough people to make it challenging without it being a difficulty. That's what we're both needing to master.
Also, this is the first time I've put a sketch as PoD and SoD. There just wasn't enough time today to get a decent photo taken, so needs must.
Tomorrow, no plans as yet.