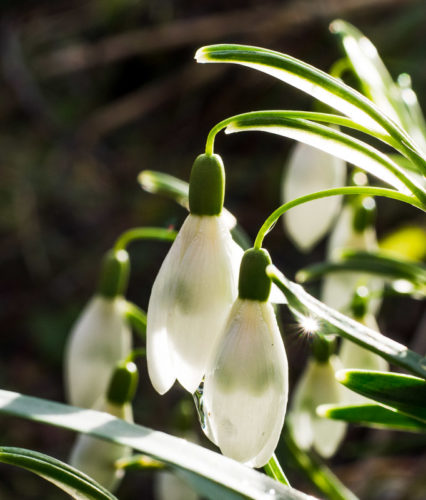 The Water in question was the Luggie Water.
Couldn't decide what to do today, so, as it was a fairly bright morning, I took the Juke out to Cumbernauld railway station carpark (free parking) and went for a walk along the Luggie. I'd hoped the water would be racing down to give me a chance to try out some slow shutter speed shots, but although it was fairly murky, it wasn't as high as I'd hoped. However I got some shots of steadily flowing water that I immediately knew wouldn't be PoD material, but I took them anyway. The PoD award went to a picture of snowdrops beside the water with the sun shining through them. Very Picture Skew (picturesque).
What you don't see in the photo, although the eagle eyed among you might just be able to make it out is a thin white line on the right side about a quarter of the way down. That's the antenna of an insect that was hiding behind one of the flowers I cropped out. It just goes to prove that the unnaturally mild winter this year, in spite of all the floods, is having its effect on nature. These insects shouldn't be hatching until about April at the earliest. Strange days.
Scamp made Carrot & Lentil Curry for dinner tonight. I couldn't tell you the last time we had that. It was delicious. Some flat bread was my contribution to the meal, but I also made a first attempt at Salt & Pepper bread. Too much salt on the crust and not enough pepper, we agreed. Pudding was pancakes (Shrove Tuesday) with some of our own stewed apples defrosted from the freezer and ice cream. All in all a good dinner.
Scamp's cold seems to be getting better at last. So we practised a bit of quickstep tonight to try to fit all the figures together into the full sequence. With the help of a couple of videos we took yesterday, things are improving. We may go to Kirsty's class tomorrow night and we may even go to a Tea Dance in Falkirk in the afternoon. Scamp's out in the morning with Isobel for coffee too, so it's going to be a busy day.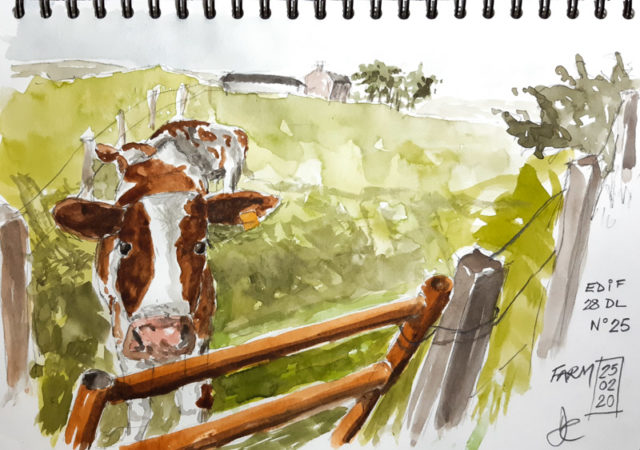 Today's SoD topic was 'Farm'. I chose Easter Cadder Farm near Kirkintilloch as my subject, specifically a couple of cattle we met there some time ago. The farm is still there, but Beast 590454 may or may not be.
Yesterday's topic was 'Mandala' and my attempt was abysmal. In an attempt to clear it out of my head I sketched a different version of it last night after I'd posted the blog. I completed it this morning and although it's not perfect, it's a lot better than yesterday's. I'll even let you see it!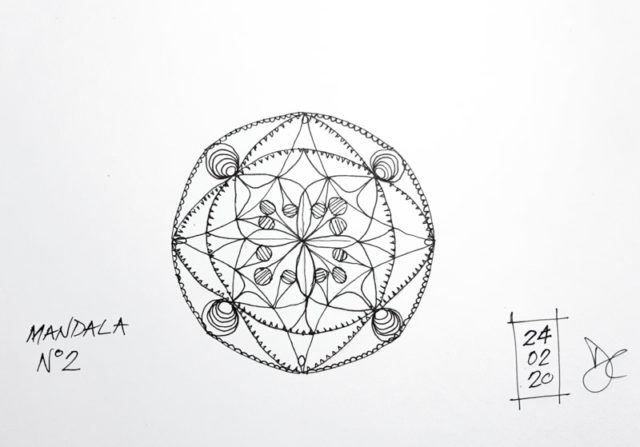 So, tomorrow has the potential to be a busy day so I'm hoping to get the 'Pink' sketch done early. That's the plan.