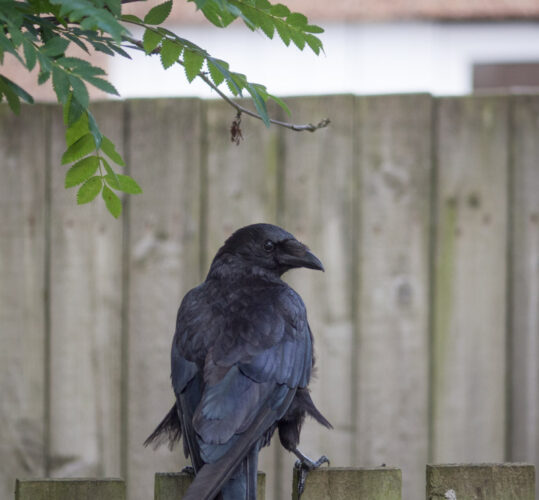 Burds. Always a good photo opportunity.
I was making my morning coffee today when a big craw flew down to have a peck at a couple of dodgy apples I'd sliced up and put out in the back garden. Stuck a 45-200mm zoom on the camera and snapped a few shots through the kitchen window. Half a dozen shots in the bag and it was only about half past ten. That's good going for a Saturday morning.
After that, the action slowed a bit. Sat and did yesterday's Sudoku (still not finished). Ordered a couple of UV filters from Amazon. Browsed the news and before I knew it, midday had arrived and it was lunch time. After lunch and another cup of coffee, Scamp suggested a walk. We walked down past Broadwood Stadium, on to the Auchinstarry road then onward to the Mosswater Nature Reserve. Scamp wasn't impressed with it. Nothing to see and a bit too enclosed. I'd agree that as a 'nature reserve' there's nothing very interesting to look at, but you have to remember this is an annex of NLC, which is not the most innovative or forward thinking of councils at the best of times. Here was a piece of low lying marsh land they couldn't build on, couldn't sell, so what better to do than make a couple of paths through it, cut the hedges once every ten year and call it a Nature Reserve.
We crossed the road to another piece of marsh ground with a path round the wettest part. It wasn't so overgrown and apparently was marginally more interesting. Be that as it may, it was a bright sunny day with occasional threats of rain, we were outside without any crowds and we didn't have to wear a face mask, so it wasn't all bad.
Walked back and about fifteen minutes later our Tesco order arrived 45 minutes early. Well, it's Saturday and the bloke was probably anxious to finish his shift ahead of time and get home.
Dinner was Italian themed. Scamp made Bruschetta as a starter and I used up yesterday's marinara sauce to make Spaghetti with Tuna. After an argument about whether Scamp had asked for pasta or spaghetti we had a couple of glasses of wine and I promptly fell asleep on the couch. Woke a couple of hours later and sketched today's offering which is my W&N field painting box, although it's never been used to paint a field, or even been opened in a field. Still it made an interesting pencil sketch. PoD went to the picture of the crow from the morning.
Tomorrow we may be going for a walk down the Green on Scamp's suggestion. Sounds like a plan!