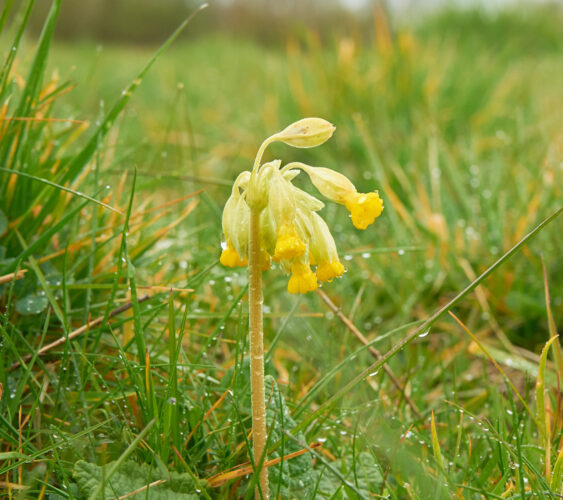 Today that rain was delivered.
The delivery took all day to complete, well at least I hope it's complete although there could still be some of the smaller parcels of rain waiting to be dropped off in the next few days.
Scamp was off walking with Veronica again today. This time it was an anti-clockwise walk around Broadwood Loch. It was a bit wet, but that didn't put off these hardy adventurers. While they were out I listened to a bloke telling me even more about catalogs in Capture One and then I cleared up some of the rats maze of cables that lie on the dining table to trap the unwary. They are now sorted into Micro USB, Mini USB and the catch-all, Assorted cables.
When Scamp returned we had lunch and afterwards she did the ironing and it was my turn to get wet. I took the Sony for a walk in the rain. Once round St Mo's was enough today. By that time I had five photos and was wet through. Although, I did have my new leather boots on and my feet were dry for the first time this year on a rainy day.
I was thinking of retiring my old MacBook Pro. It's twelve years old and beginning to fail. The card reader stopped working years ago, but plug in replacements are cheap to buy. It can't be upgraded (legally) past OSX 11. The iMac is currently running MacOS 14 and there are another two levels available above that for newer machines like the iMac. I could do an illegal upgrade, and may yet do that, but you never know what little nasties you're squirting into your system as a result. Finally, the touch pad is now beginning to fail and the second replacement battery is losing its power rapidly. I had a look to see what was available and was surprised to find there's nothing anywhere in the Apple range that uses the tried and tested Intel chipset. Apple are only producing machines with their own M1 chipset. I read a few reviews from sensible sources and they were not at all complementary. Biggest problem seems to be that the machines run well with Apple apps, but less well, or not at all with the majority of commercial, non-Apple apps like Lightroom. I don't want to go to a Microsoft machine, but maybe needs must … Difficult decisions.
Today's PoD was a bunch of Cowslips growing in the wilderness (ie, the bit the council don't cut and call a 'wildflower garden') in St Mo's. Thank goodness the Sony and its lens are weatherproof, which hopefully means waterproof too!
A half hour of dance practise tonight rubbed some more of the rough edges off the Waltz, Tango and Rumba and went some way to building the Bossa Nova too. We did finish off with a Salsa, but Oh my Goodness, the amount of stuff we've forgotten in just over a year! We need to get to some Sunday Socials once normality returns!
Tomorrow we may hasten that normality by taking a run in to Glasgow. Just to see if we can remember what shops look like!