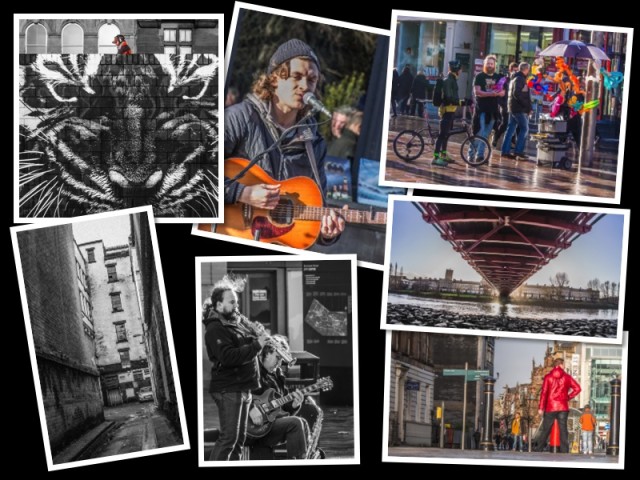 After a downer of a week, weatherwise and otherwise, we woke today to … rain. Woke up at around 6.00am to rain battering against the window. Turned over and went back to sleep. Next thing I knew it was 9.00am and it was still raining. Oh well, I'd decided to go in to Glasgow for a wander and the weather app on my phone said it would be sunny by midday – fat chance says I. By the time I'd got myself organised and finished just one more chapter of Strange Loyalties by the late William McIlvanney, a very introspective novel with wonderful use of language, by the time I finally put it down, it was getting on for 11.30. Scamp had declined my offer of a run into town, so I went myself on the train. Got parked easily for a change at the station.
When I was walking up to the station, the rain had stopped and wonder of wonders, there was blue sky up there. At 12.10, sitting in the Glasgow train, the clouds parted and the sun shone. It stayed that way for the rest of the day. The weather app was right, well, ten minutes late, but we can forgive it that. In Glasgow I went up to JL, but they had no bargains – well, they hardly ever do. Had a play around with one of the Oly 4/3 DSLRs I've been watching coming down in price. Second hand of course. Unfortunately I handled the posh V2 version first, so the viewfinder wasn't as clear in the second, more affordable, one. That said, it has come EVFs have come a long way since the Sony F707, or even the removable EVF of the Oly E-PL5. Sorry for all that technospeak, Jic, it's over now, you can open your eyes again.
Lots of lovely light in Bucky Street and interesting people too. I have to thank the community policeman who noticed I'd dropped the viewfinder from the E-PL5 in my rush to get a shot. Thank you very much whoever you are, I never really got a chance to thank you properly. I know it's unlikely you will ever read this, but I feel better now. I walked all the way down past St Enoch's to the Clyde walkway and found even more photo opportunities.
Back up to the station, back home and a piece 'n' cheese for a late lunch before Scamp came home from a "Witches" meeting.
What a difference a bit of sun makes.