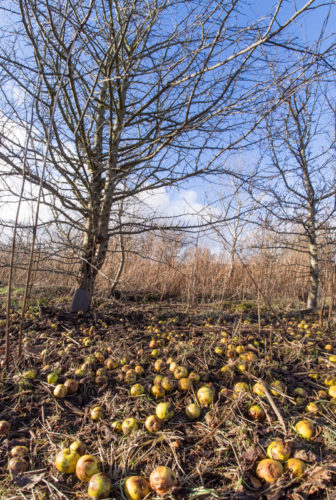 Usually a walk along the canal can lift my spirits, but today the opposite was the truth.
It's a Monday and that means Gems and Gems means I go out for a walk. Today I was half decided to go down to the Luggie to get some photos of snowdrops, but then I changed my mind and went to Auchinstarry instead. I walked along the canal, but there wasn't much there that inspired me. Lots of other folk were there too, maybe they too were looking for inspiration. I hope they found some. I didn't see any black monkeys while I was there, but one seemed to cling to me while I was there and it remained with me for the rest of the day.  Today's PoD was taken crossing the Plantation over to the railway path.  I think they are crab apples.  As you can see, although it was a dull day for me, there was a beautiful bright blue sky.  That's sometimes the way of things.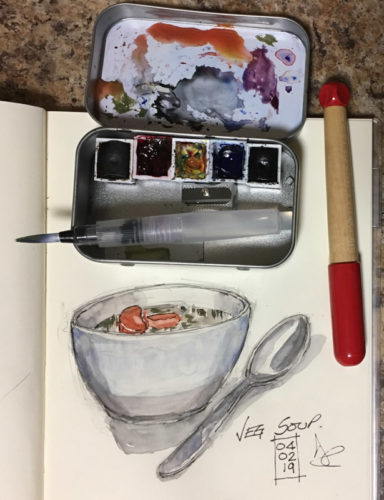 Dinner was the usual Monday, 'Red' Spaghetti. However, we also had a bowl of soup and that soup contained a selection of the veg I painted for yesterday's 28 Drawings Later. The sketch was good, but the soup was better. Not so today's sketch. Although it's done and on time, I wasn't happy with it. I don't think the Midori notebook is conducive to watercolour work. It's fine for ink, but doesn't have the tooth or the strength to hold a watercolour wash. Note to self, horses for courses.
Went to salsa and helped out at the 6.30 beginners class. Very big class with too many followers or to few leaders. Either way, that meant both Scamp and I were needed as leaders, as were any other people willing to lend a hand. Our class suffered from the same lack of leaders, but whereas the beginners class had over forty participants, our class had seven people in total. Three followers and four leaders including the teacher. Even worse, one of the followers left to go to her ballet class halfway through the lesson. Unless we get a sudden injection of salseros, I don't see the advanced class continuing in its present form after this session, and that will be a terrible shame. Scamp and I have discussed the problem at length and cannot put our collective finger on the source of the problem. I don't think there is a single source, as usual with things like this, there are a host of contributing factors. Only time will tell if the class will continue. It may not have been the most successful class for numbers, but I did manage to pass on that wee black monkey to someone else!
Tonight's 'new' move was an old favourite Chi Wa Wa. We also tried to remember Agamemnon with little success. I'm sure Jamie G will have it perfected by next week.
Tomorrow I'm up early to give Scamp a lift to the station to catch the Glasgow train and from there she will hopefully get the bus to Inverness to have lunch and a gossip with Jackie. I may go looking for interesting photos and inspiration!