I'd forgotten that 7.30AM existed. I used to be out the door and on my way to work at that time. That was just over four years ago and you tend to remember the good times and ignore the bad. 7.30AM was one of the bad times. Defrosted the car and picked up Scamp to take her to the train station. Her and half of Cumbersheugh seemed to on the way to the station at Croy this morning. Dropped her at the ticket office and drove off to park and walked back to check that she had caught the train. The train was already at the station by the time I got there, but I saw that familiar red hat on a person that was sitting in a seat. There's only one hat like that in the world, Hazy!
With her safely on the first stage of her journey to Inverness to meet her sister, I drove home, had my breakfast, read my emails and went back to bed for an hour. I should have gone out and photographed that beautiful dawn sky before I went to bed, but I didn't and I so regret it now.
When I got up for the second time today it was lunchtime and I had the last ladleful of my soup, then I went out to get a PoD under a much different sky. The clouds were Scottish Grey and as I walked to the car, the rain started. I drove down to the Luggie Water and found the snowdrops which were now blooming nicely. Using my glove as a cushion for the Oly and a Moleskine notebook as a wee tent to protect the lens from rain I grabbed half a dozen shots at various distances and quickly checked them to make sure they'd all worked and they had.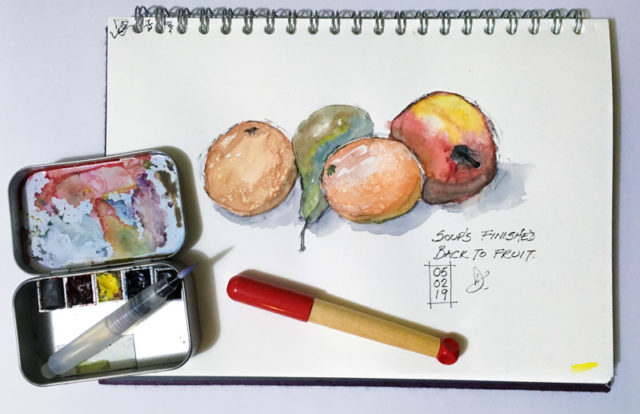 Back home, processed the photos and made my dinner which was chilli con CARNE, because Scamp would be having a posh lunch in Inverness, so I could have a meat dinner tonight. Dumped the chilli into the slow cooker and left it for an hour or two, plenty time to get my sketch of the day done. Today it was to be two oranges, a pear and an apple. I made the mistake of having four items in the sketch. Every beginner know you should always group odd numbered items. It was the apple that went wrong. If anyone asks me about it, I'll just say that the apple was old and was getting a bruise at the bottom. I liked the oranges and the pear. Unfortunately you can't clone out mistakes on a watercolour.
Scamp sent a text to say she was just passing Stirling Castle about 8.30pm and I got ready to drive in to Glasgow. Picked her up just after 9pm after doing a detour because the motorway was being repaired.
Tomorrow it's Dancing day. Hopefully it will be Blackfriars in the afternoon and STUC salsa at night. Chilli was fine, but just a little too mild.