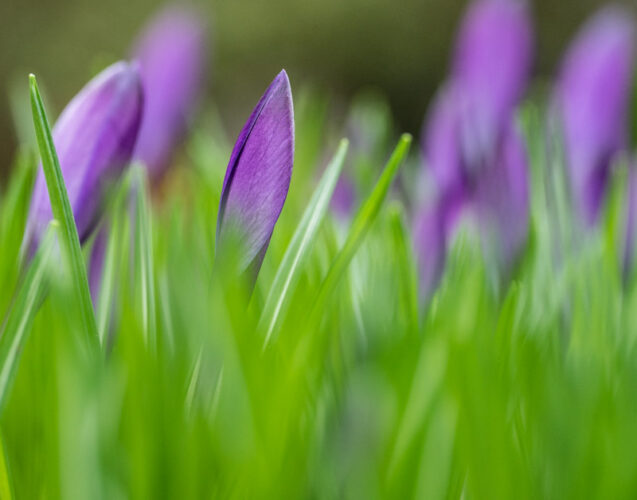 Not a lot done, but there was definitely the feeling of spring in the air.
We did some work in the garden in the morning, although I must admit that most of my 'work' was photographic. Scamp did the heavy lifting. Repotting the chives that came from my mum, easily thirty years ago and probably a lot more. Every couple of years they outgrow their pot and need split up and repotted. I swear that if one single tuber was planted in a 300mm (12") pot, within two years its roots would be using all the available space. Still the taste of new potatoes with butter and chives is a delight and makes it worth keeping these plants in a garden. Between us we chopped up two plants and replanted them. I hope they are happy in their new home and don't go crazy right away.
In between bouts of 'helping' with the repotting, I was taking photos, mainly of the crocuses. The blue/purple ones are my favourites, I think. That's how today's PoD came about. It's just a low level view of one of Scamp's long narrow pots, a rectangular one that sits on the kitchen step for a couple of weeks in the spring before it goes back into its shady position near the fence. It seems to thrive in that cool damp place but looks spectacular sitting on the step in the evening sun. It's another plant that really should be split every few years, but I don't have the heart to do it and I don't think Scamp has either.
After lunch and after listening to a spirited baiting of Gavin Williamson the Secretary of State for Education by Andrew Marr, we went out for a walk in St Mo's. No photos taken although I did take the Sony with the kit lens (light camera bag today). Not a lot of humans out, but a tribe of teenagers trying to start a fire in the woods. Also letting off bangers, either because Rangers had won some cup or other or maybe because they'd discovered matches. Who knows. Anyway we walked round the pond a couple of times and declared that we had achieved our stated purpose of getting some fresh air.
Dinner tonight was yesterday's curry reheated, which sounds a bit sordid, but actually it was delicious, but apparently the paneer was still squeaky. My Chicken Rogan Josh was even hotter than yesterday.
Dance lesson tonight was a re-run of last week's with a few pointers about presentation and general tidying up of the rough edges. Next week we move from rumba and waltz on to Tango. Ooh, must remember the rose between the teeth!
It stayed dry nearly all day, but it's been raining tonight and we're due for more of the wet stuff tomorrow. No real plans.