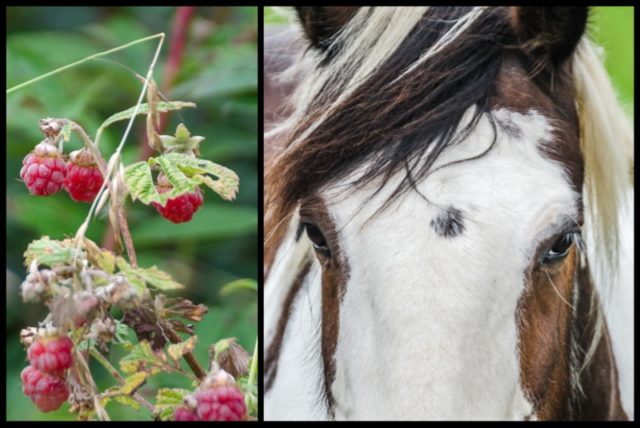 Today was a day for relaxing after the last couple of driving days.
We were intending getting the bus in to Glasgow, but as the rain was pelting down (the garden needs it), we changed plans and drove in. For lunch we went to the Chinese restaurant on Sauchiehall Street (AKA Sausage Roll Street) where Scamp used to take her mum for lunch. We'd been there before. It always was in the "Cheap and Cheerful" category, but today it was only "Cheap". The food left a lot to be desired. My Sweet and Sour Chicken was tasteless, apart from the sickly sauce. Scamp's Chicken Pineapple was also tasteless. I don't think we'll be back. I think we might be spoilt by Cotton House.
After we came back, I went to get petrol because we'd used up all the Chessington petrol from yesterday. Then I went for a walk down the Luggie Water. Not a lot there to photograph apart from some early fruiting rasps. Drove over to Moodiesburn then over the back road and found some horses in a field. Took Harry the Horse's photo, and drove home.
Jackie, Scamp's sister and her husband referred to previously as Murd were on the way north from Southampton and I was going to give them a lift from Glasgow. That was before they got caught up in an almighty traffic jam just before Tebay services. They were due in Glasgow around 7.30pm. It's now 10.30pm and they're still not here. They told us they would get a taxi from Glasgow instead of tying up my night, which was very good of them.
A relaxing day for us, but maybe not for Jackie and Murd
Don't know what we're doing tomorrow. To quote Scamp "It depends on the weather"