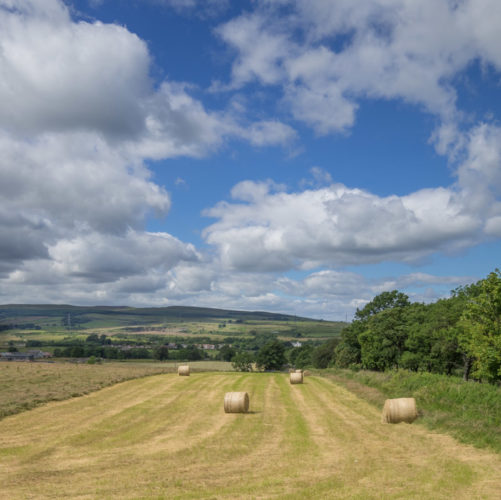 Ordered on-line yesterday, delivered free to the store today.  Impressive.
Ordered a second hand Panasonic 14mm lens on-line from WEX at lunchtime yesterday and got an email from them today, just 24 hours later, to say it was ready for collection in their Glasgow store.  Impressive service.  So, I drove in and picked it up.  I could have waited until tomorrow, but I was doing nothing else today and it seemed a pity for it to be cooling its heels in a store room when I could be putting it through its paces in  the sunshine.  Drove home via B&Q to get some black Sugru to try to fix the battery door on my old, but good Oly E-PL5.  However, as usual with this branch, they had blue, red, yellow and white Sugru, but no BLACK.  Left disappointed and drove over to the Antonine Wall and got some landscape shots of the hay bales under a blue sky.  The above shot made PoD.  I must admit I'm impressed with the lens.  In case you're interested (I know you're not). It's a Silver Panasonic 14mm F2.5 Lumix G II ASPH Lens.  It came in its original box with the instructions and warranty still in their sealed wrapper.  Nobody reads instructions these days.  If in doubt, Google it.  What do you mean you don't have a computer?  How the hell are you going to view your photos?  Take the disk in to Boots and ask them to print them?
While I was out doing the rounds, Scamp was at lunch with her pal.  She should have gone last week, but uncharacteristically, forgot.  By the time I got back, so was she.  Basically, that was the day.  Highlight for me was the new lens.  Highlight for Scamp was lunch and a natter.  We're easily pleased, you see!
Tomorrow we're probably going dancing in the afternoon at Michael's Fun Palace, and he better be on his best behaviour or fur will fly! Then intending to go to Jamie Gal's Salsa class at night.  Should be a fun day!!!