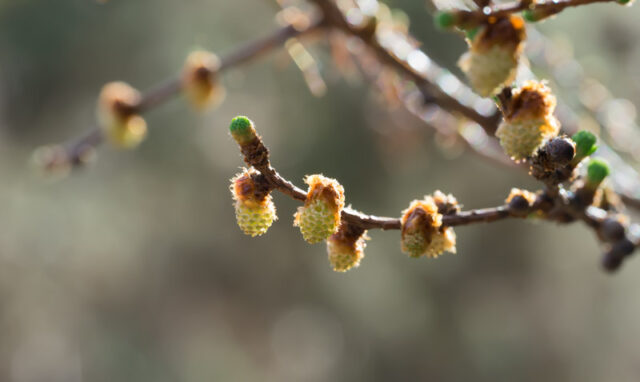 Have you ever had one of those days when you wake up feeling that something's just not right and it follows you all day? I had one of those days today.
Oh dear, milky white sky, but the clouds were low too. The Campsie Fells were covered to about halfway down, but from the cloud line down they were in beautiful sunshine. Very strange indeed.
The clouds seemed to take a long time to lift and disperse, in fact it wasn't until after lunch that things began to clear and we felt able to go out for a walk, but still that strange feeling irritated me for most of the afternoon. Scamp tried her best to lift it, and eventually a walk round Broadwood Loch and her constant chipping away at it finally broke through and the sun shone. From then on life returned to normal. We walked round the loch, but didn't venture into the woods because I was pretty sure the path would be flooded and that would be no fun. Instead we walked clockwise against the flow of anticlockwise walkers with their dogs, around the edge of the loch. Then it was up the gentle but continuous climb past the exercise machines and on to the shops.
I suggested to Scamp today that we should perhaps declare Friday and Saturday to be no-cook or easy-cook days. When you're retired you don't have weekends. Heavens, many people who are working from home during this pandemic don't have weekends either. So, to give us something to look forward to and to give the week a structure we should treat dinner at the weekend as a stay-home restaurant meal. Sometimes we should get a take-away delivered or walk over to the food outlets in Condorrat to collect a meal, or like today, we could get an easy-cook meal from M&S. Today's meal was a Japanese food box with Chicken and Teriyaki sauce, Katsu Chicken Curry, Chicken Miso with noodles and a well named Firecracker Chicken. All served with rice. Sounds complicated, but basically you pierce the film on all the trays and bung the lot into a pre-heated oven for 20mins or thereabouts while you relax with a nice glass of red. Pudding was Bramley apple sponge from the same shop. That worked for me.
Between returning from the shops and cooking this complicated meal, I went over to St Mo's to see what happens when two tribes go to war, and also to get some photos. Lots of rubber-men and rubber-girls staggering around but nobody seemed to be wearing any warpaint, so I presume:
Peace had been declared.
Or
The batteries had run out on the ghetto blaster.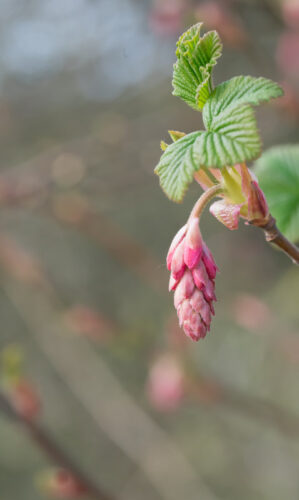 Perhaps even both. The woods were silent. The woods I went to were at any rate. Earlier I'd photographed some Flowering Currant bushes (Ribes sanguineum) almost exactly a year after my last Flickr picture of them. I also found some larch pollen buds just opening with a nice bit of side lighting and that was the shot that got PoD.
Altogether, my day was a bit like the weather. It started off cloudy but soon the sun shone and drove the clouds away. Thankfully Scamp has that effect.
Maybe a walk down the Luggie tomorrow. Haven't been there this year I think!