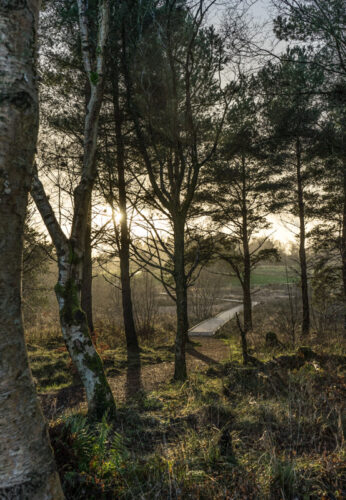 Up early to get a new window in the Micra.
Not my Micra, this was Scamp's. It had a crack on the driver's side of the windscreen, just above the dashboard that looked as if it would increase in size after the first heavy frost. Today the man was coming from Autoglass to fix it. He phoned about 8.15 to say he was on his way. Scamp's car was jammed into a fairly small space, so I took the opportunity to steal Scott the taxi driver's space at the end of the row and give the bloke a fighting chance of getting the screens exchanged. I had to scrape the windscreen first after the first hard frost we've had in ages. I was a bit gentle with it, not wanting to make the crack any worse than it needed to be. He arrived on time and it took him almost exactly the 45 minutes he predicted and it looks a nice clean job. He said we should leave it for 30 minutes before driving it, but it was unlikely to move far today.
I'd cleared Scamp's car's screen, so I started on mine and drove up to Boots for our meds and Tesco for bread then back home with the air con blowing a gale, a warm gale. We wouldn't go hungry today. Leftover tomato soup and croutons for lunch, then after letting that settle we got our boots on and went for a walk in St Mo's.
We'd been in for most of the morning and then we'd waited for a while before we left on our walk. The weather in all that time had been beautiful. Cold but clear and clean. As we walked round St Mo's pond for the second time we could definitely feel rain. We just continued on, hoping that it was just the edge of a cloud we were catching, but it wasn't. We were wet by now, so we just walked home. We'd done our two circuits of the pond and on the last one I'd got PoD of the light through the trees with the rain falling.
That was about it. We checked the TV schedules to see if there any decent films to watch, but there were none, at least none that I wanted to watch. We switched to Netflix and were grateful that we did. Thank you Hazy for adding some films to our list. Hopefully that will keep us from watching The Snowman one more time.
Spoke to my cousin Margaret and heard about her troubled year.  Sometimes we forget about other people's problems, constantly bemoaning our own.  Then you hear from someone who has overcome much more serious troubles and it puts your own life into a clearer perspective.  Thankfully she's on the mend again and has avoided Covid-19.  As she says, she's just battling on.
Tomorrow we have no plans. Hoping we won't have an early rise.