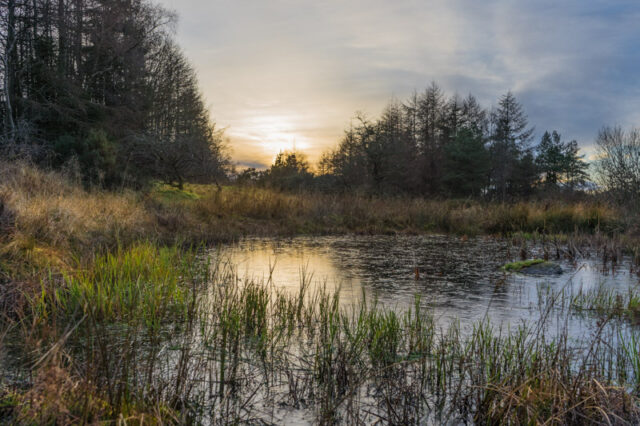 My new pan gets its first real test.
In the morning Scamp set to and iced the Christmas cake. It was much smaller than our usual one, but Christmas cakes are a bit like turkeys, in that you feel obliged to keep eating them days and days after they were cut on Christmas Day. We each got a chance to put some items onto, well really Into the finished icing. My choice was the Santa and reindeer and also the little corner house. Scamp chose the children on the sledge and the snowman who now looms over the little house! A tradition returns to the table.
I'd bought an interesting pan for roasting and also for other stuff. It looked like a bargain, but I hadn't really had a chance to test it out properly, until today. Lunch was black pudding and haggis fried in a 'normal' pan and an omelette made in the new pan. The eggs were unused leftovers from this morning's icing, and it seemed a good way to use them up.. I wasn't sure if the omelette would work in a griddle, but I'd seen a video online and it looked easy. Surprisingly it was almost that easy and the omelette folded over perfectly, sliced up easily and went down satisfactorily. We have success.
After lunch, Scamp went over to Condorrat to post a card and I fitted the dash cam back on her clean, new windscreen.  I didn't linger in the car too long because it was pretty cold. When scamp returned I got dressed for the cold and went to St Mo's to get some photos. The PoD was of the wee pond with ice crusting on its surface. I thought I'd allowed myself more time that I had and the light was fading fast, but the photo looked ok, if a little dark. Lightroom soon made it look a lot better. While I was out walking my two circuits of the big pond, I stopped a while to talk to a bloke I bump into there. He does lots more circuits than I do. I do two and occasionally three, he does up to ten at different speeds. Everyone has their own way of easing the stress of these lockdowns.
Dinner tonight was chicken breasts, red peppers, mushrooms and courgettes, all done in the new pan. They worked fine and there was just enough room for them all. Carbohydrate intake was a baked potato each.
The pan is a Whatever Pan by Jean Patrique ( or John Patrick as he's know down the Barras). That's me used it three times and I've not broken it yet, so it must be sturdy. It's cast aluminium and let me tell you that it gets bloody hot!
Tomorrow looks good. Clear skies predicted. We may go for a walk, somewhere quiet. If there is such a place on Christmas Eve!