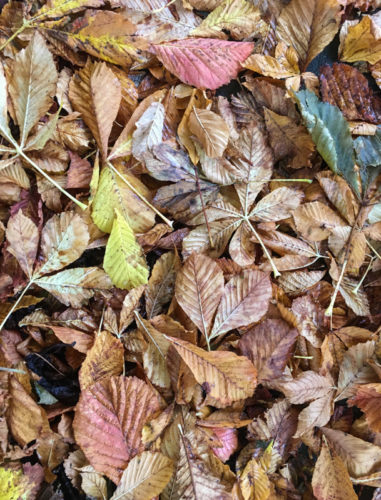 Yes, today was a watered down version of yesterday. All the same component parts, just not so much of them.
It was windy and dull when we woke. Not as gale-force windy as yesterday and it was dry for a while. That didn't last, by the time we came down stairs the rain was on again, but thankfully not as torrential or as sustained as yesterday.
I almost managed to get my easy sudoku finished before Scamp started busying around clearing the table into piles, easily managed piles that could be carried away and put somewhere. Somewhere I'd forget, and then spend ages trying to find them again. Then the hoovering began but by that time I'd finished the puzzle and was in pack horse mode carrying stuff upstairs. I should really open an Excel file and write down where I put all the stuff, then it would be easier to find. Don't tell me that I'd lose the Excel file because I wouldn't. It's a computer file and Hazel (computer app Hazel 😉 ) would file it away for me exactly where I'd expect to find it.
With that accomplished, it was lunch time and after that, when Scamp went to pick up Gems, I made a sharp exit and headed for the gym. No swimming yet, because my leg's still a bit scabby from my attempt to run through a fallen tree rather than over it. I must remember the 'over method' is much more successful … and less painful. In the changing room it took me three tries before I found a locker that locked. I counted seventeen that had the "Don't leave valuables in this locker" sticker on them. That means they don't lock. Sort of defeats the purpose really. Then I found three without the sticker, but they wouldn't close properly because it looked as if someone had jemmied them open at some point. This is supposed to be a fairly posh gym and spa, and here is evidence that some person or persons unknown is jemmying open the lockers. So that's at least twenty lockers that don't fulfil their purpose. Spent half an hour in the gym torturing my poor legs on the recumbent cycle, the leg press and the treadmill. I even gave the legs a rest and took on the shoulder press just for a bit of variety. When I was leaving I noticed that the sauna door was still not repaired. That's about two months now to fix a door. The final straw was a check on the time and the clock is at the wrong time!! Hilton is the third owner of this hotel in four years. They'll probably fix some of these problems and then sell it on as a going concern.
Stopped at St Mo's on the way home, but ever at 3pm, the light was so poor I knew I'd be struggling to get a reasonable photo, so I gave up and came home in the rain. Stopped outside the house and found today's PoD, the windblown leaves from the trees in front of the house.
I'd missed all the singing today, so that was a mercy. I went upstairs an sketched today's offering for Inktober.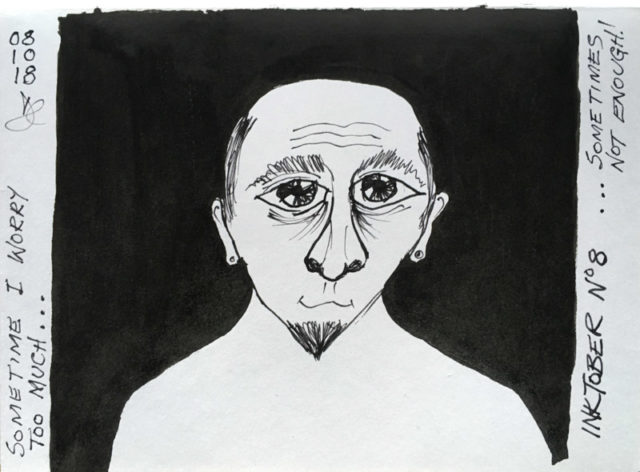 I doodled the original face for 28 Drawings Later in February, but thought I could reprise it for Inktober. As usual, the new one isn't as good as the original, but I still like the face. I feel I know him from somewhere.
Drove to Salsa tonight to be met at the door by Megan who told us that Jamie G wasn't taking the class it was the 'S' person. We left and drove home in the rain. That's when I noticed the message on my phone from our other informant to confirm Megan's warning.
Tomorrow? Maybe taking Scamp to the dentist to see what's going on in her mouth.