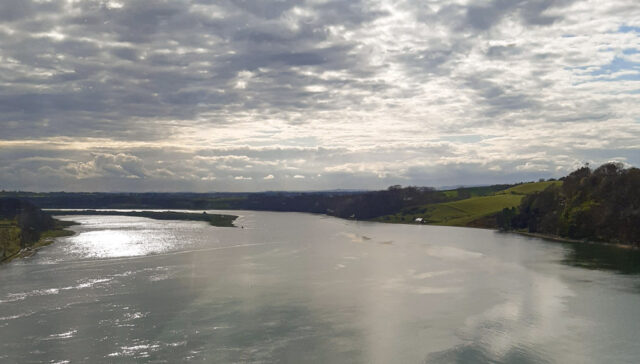 It has to be done and it's always a drag, no matter how you travel.
After a morning trying to resist repacking the bags, I gave in and just saw staring into space for a while. One last walk round 'The Policies' and then Simonne was ready to squeeze us and our luggage into the car. Vixen knew something was up and was really fidgety, hardly leaving Simonne's side, so she came too in her crate.
She dropped us off at the train station after some clever manoeuvring round back streets of Stowmarket to avoid being held up at the level crossing which has a reputation for becoming a bottleneck. We said our goodbyes and dragged our stuff onto the platform, only to be told that the train was delayed by 3mins. Given that we only had 8mins to change platforms at Peterborough, that was a bit worrying. However, the driver made up that 3 minutes easily and we actually arrived at Peterborough ahead of schedule.
On the train to Edinburgh after a mix up when whoever was reading out the sections of the platform for the different carriages got them round the wrong way. We found our seats and were fed and watered all the way to Edinburgh where we'd just missed the earlier Glasgow train. Taxi was waiting for us at the station and we were soon home.
A long day, a bit fraught at times, but listening to Alan Cumming reading "Baggage" lightened the load.
PoD was a picture taken from the viaduct crossing the Tweed into Berwick on Tweed.
Tomorrow will be a relaxing day.