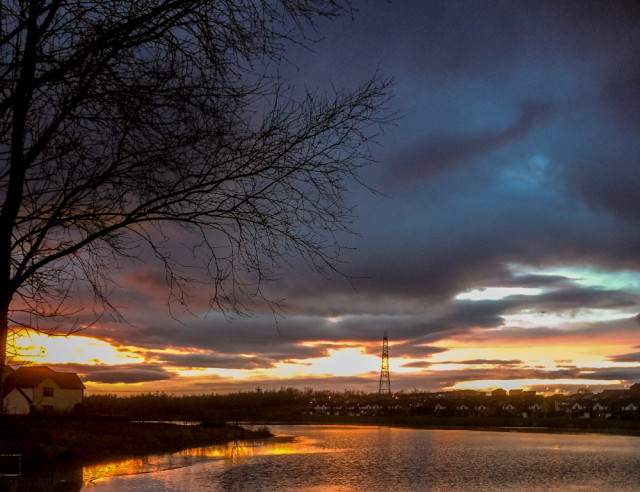 The day started with the usual grim wet weather and much darker than it should be even at this time of year. However, throughout the day the clouds lifted and lightened. By four o' clock we had a lovely sunset. The first this year and the best for a long time before that. That means there will be clear skies tonight and the inevitible drop in temperatures. Snow forecast for dinner time tomorrow. Sounds like fun, but more seasonally appropriate for January.
So what did we get up to today? After what has now become out late we went to Westerwood. Scamp to the gym and me for a swim. After that Scamp had a hairdresser's appointment and I was preparing for dinner which was to be chicken curry made with a base of curry paste. It was then I realised we didn't have enough milk and when I went to get it, took a short diversion to grab a shot of the sunset. Smart things smart phones. I thought the curry turned out really well, although the sauce was a bit thick. Scamp thought it was too salty. We both agreed that the flatbreads were excellent.
Hoping for some (whisper it!) sun tomorrow. It's forecast, but we'll have to wait and see if the weather fairies are telling the truth or not.