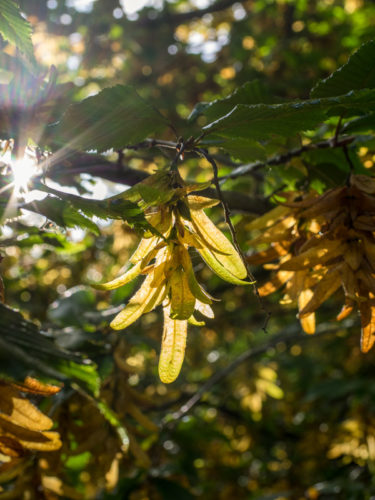 Today we had decided we'd go out somewhere again. I chose where today.
Out fairly early and I thought I knew how to get to Rouken Glen in Glasgow, but I came off the M77 one slip road too early and ended up having to program the sat nav and drive through a cluster of roads I'd never been on before. Next time I'll trust the sat nav and not my intuition. Got there after a grand tour of the South Side. Found a place to park, squeezing into a space in a car park that was designed for about 300 cars, with only about 20 actual cars in it.
Scamp wanted some crocus bulbs to plant in the front grass. It's not a lawn, it's not a green, it's front grass. She planted some last year about this time and they looked lovely in little groups in the springtime. The first packet, in fact the only packet I saw on the rack was called Dorothy. Bright yellow crocuses. Very fitting in view of our visit to Ayrshire last week, so we took them. Also got a packet of loose crocus bulbs in what we hope were mixed colours. Scamp also got a pot of mixed, real, heather. They also had imitation heather which looked real, but wasn't as interesting as the real, real heathers we got. I got a kit for growing chillies. Finally, we got an oval planter which was great for carrying all the other things. We put them in the Juke boot and went for a walk, because, although we had driven through a few rain showers on our way to the South Side of Glasgow, it was fine now and the sun was shining. Walked around the park and admired the trees in leaf. It was one of those trees, a Hornbeam that made PoD. Try as I might, I couldn't get rid of the flare from the sun, so I just had to accept it and I now think it looks ok. I did manage to use my adaptable lens hood to good effect later in the walk.
Loads of folk had arrived while we were walking and there must have been about 30 cars now in that big car park. It seemed that most of them had disgorged weans and dogs, because they were everywhere. Many of the weans were gathered under big spreading Chestnut trees picking up chessies or conkers if you're English. Anyway, great fun was being had by all.
We had a quick lunch in the garden centre. Soup was good. Cakes were excellent but coffee was dire. I think the espresso machine was only there for show. I'm certain my coffee came out of a jar, not a bean. There was certainly a degree of sleight of hand in its making.
Drove home and just as we were getting out of the car, the rain appeared and stayed on and off all afternoon. Scamp didn't even get her heather planted, but I expect she will tomorrow.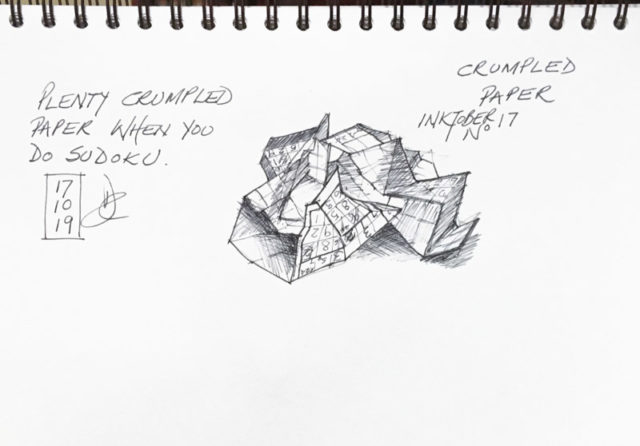 Today's topic from my Inktober list was "Crumpled Paper". Crumpled paper may sound simple to draw, but it a difficult subject to draw in ink. With pencil you can add a bit of soft shading. That's not really possible in ink, especially if you're just using ink. I could have used a water brush to soften the edges of the lines and give a bit of tonality, but I decided not to and to draw with pen only for a change. This is the result. Parts are good, parts are not. That's just the way it is sometimes.
Scamp had dentist in the morning tomorrow. We may go in to Glasgow later, depending on the weather and the denture situation.