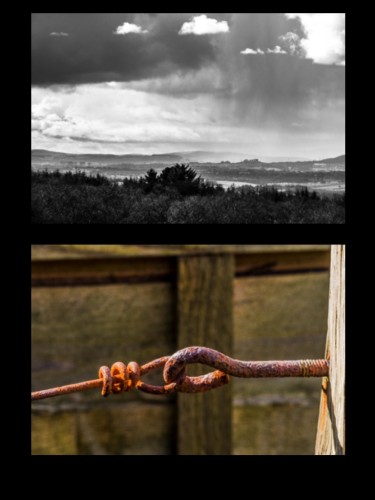 Up fairly early and went to the gym. Scamp was quite circumspect with the machines, not wanting to aggravate here sore shoulder and then a heat soak in the steam room, the sauna and the jacuzzi.
After a quick light lunch I toddled off to fill up with petrol which has gone up to 101.99p per litre a rise of 2p since last week. I drove around for a while after that frittering away that expensive alcohol looking for some photos. I eventually settled on Hulks Road but luckily didn't encounter any gigantic angry green men and got a few shots looking down the valley towards Glasgow an the incoming rain clouds.
Tonight we went to salsa as we hadn't had our dancing fix on Monday because it was Easter holiday.  Drove through some torrential rain showers with the sun shining brightly behind them.  Worth it though.  Exhausted after two classes and found they were pretending to repair the motorway again and there were diversions everywhere. I made my own diversion and found a way back on. Why do they divert you to a slip road that's closed? Only Glasgow has the answer and they're not telling anyone. Looks like a decent day tomorrow, so we're heading for some scenery somewhere. That's the plan anyway.