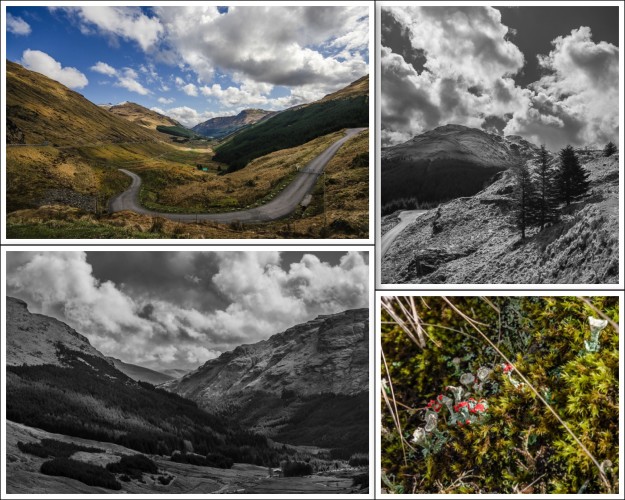 We set off fairly early on an improving day. Down the M80 on to the M8 down to and across the Erskine bridge, past Dumbarton (can you guess were we're going yet?). On past Balloch and up Loch Lomond side. We drove past Luss on the right and Inverbeg on the left and north to Tarbet (not to be confused with Tarbert which is miles away). From there it was over the pass to our first destination, Arrochar. We parked in the much reduced carpark across from the collapsing pier and watched the light change on The Cobbler (Ben Arthur). We saw folk walking some of the paths through the pine forests. If I'd brought my boots we could have been up to the summit and back down again in about an hour – Aye Right!
Arrochar is scenic, but there's not a lot to see in the village itself, so we headed up past the part demolished torpedo testing station, past Ardgartan and on up the long slow climb to the top of the Rest and Be Thankful, passing on our right the new landslide trapping nets. This was the end of our scenic tour. We sat in the parking place at the top of 'The Rest' and had our coffee and 'pieces' – not sandwiches, Pieces. I took lots of shots looking down the valley of the River Croe and off to the west to the higher peaks where the snow still lay.
I went off to get some shots of still, dark, gloomy Loch Restil and that's where I got my 'bang on the ear'. I walked right into a road sign and bashed my ear on it. How stupid can you be not to notice a notice? It's not as if it was a wee sign, it was about a metre wide by about 60cm high. Having said that, it was a stupid place to put it, right where somebody would bang their ear on it. It's amazing how much pain is caused by such a small cut. Numpty.
From The Rest it was all downhill – literally. Took a different road back, down the side of Loch Long to Helensburgh (It's ok, JIC, we didn't stop except to go to Waitrose) and then back over the Erskine Bridge. There I made the big mistake of attempting the M8 rather than the M74 to take us home. In future, remind me to take the left lane and head for the M74 because the traffic is less horrific there.
Good to get out and see some beautiful scenery in good light with great company. Must do it again some time soon, if possible without the bang on the ear.