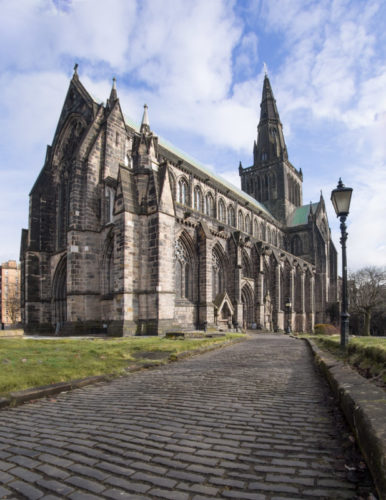 Out for 9.30am today
Taking Scamp to her hospital appointment in Glasgow today. It was a bright morning, so, since it was a routing check-up, while she was in the hospital, I went for a walk to Glasgow Cathedral. That's where I got today's photo, more of which later. I knew I only had half an hour of 'freedom', so after getting some wide angle shots of the building, I sat down to draw it. Sketch it would be a better description. Bearing in mind the usefulness information from a book on sketching architecture I'd read last year, I dispensed with the details and got the important bit, the bit that interested me drawn first, then, still working roughly, added in the remainder of the building. With that down, I started adding details, again working from my centre of interest first. It's amazing how time flies when you concentrate on something and it only seemed like a few minutes before my phone rang and it was time to meet up with the patient. Sketch was only half finished and that half was lacking sooo much detail. Not to worry, it was done. I'd drawn it with a child's fountain pen that's great to sketch with. I've learned that if you use the fountain pen upside down you can draw really fine lines with almost any nib. Great for construction lines. When you're ready to add in the outlines, you simply turn the pen round to the normal writing position. So simple and so effective. Two pens in one.
Anyway, a photo or five in the bag and a sketch too. Not bad for half an hour's work. Drove home and stopped at Costa in Robroyston for a coffee, or to be more precise, "a flat black is stronger and smoother than an Americano due to the coffee extraction process". However, it still manages to taste like an Americano and cost a little more. In other words it's a Flat Con. Once bitten …
Back home, Skyped with Hazy for a while and caught up on all  the news from her end.  Halfway through there was a helluva thump.  It sounded like a door being slammed and we thought it must have been somebody next door leaving in the huff.  It wasn't until the Skype session was over and I looked out the window that I saw the pigeon on the front grass.  Poor wee thing had battered into the bedroom window.  Went to have a look, but it was obviously dead with a broken neck.  Bagged it and binned it.  I don't like pigeons, but I felt sorry for it.  Now we've got a white 'angel dusting' on the bedroom window.
Scamp was out to lunch with a friend and I started to clean my coffee machine which was leaking rather than making. The reason was soon obvious, there were coffee grounds everywhere. After half an hour of scrubbing and re-assembly the coffee making process was back in full swing. Just wish I could find some way to prime it properly after cleaning. It takes ages to get rid of all the air bubbles in the system.
<boring stuff>
Next task was to process the photos. It should have been easy, but as usual it was anything but. I'd deliberately taken more than one shot of the cathedral because there were a lot of people milling around, even at that early hour. The trick to avoid that is to take a lot of shots, preferably with the camera on a tripod, mine was at home. Then you lump all the shots into Photoshop in a stack, get the prog to align them, then carefully erase the people in the top and sometimes the second top layers to reveal the building or scenery in the layers below. Sounds more complicated than it is. Then I noticed that the top of the steeple was missing from the photo, so another bit of cut 'n' paste repaired that. Because I'd been using an ultra wide angle lens, everything was curved, so a bit more doodling on Photoshop and finally Lightroom sorted that out. It took less than five minutes to get the photos and about two hours to make the composite final image. It started out at 12MB and the composite was a whopping 720MB. Still, I got the image I wanted. All photographs are fake, remember that.
</boring stuff>
Dinner tonight was paella where I got to use the Pimenton Dulce from Fuerteventura. Happy!
Tomorrow the dance class in the afternoon is cancelled as the other two couples are on holiday this week, so we have the day to ourselves. Might have a practise session. Oh yes, and Scamp got the all-clear as we expected. Happy!!