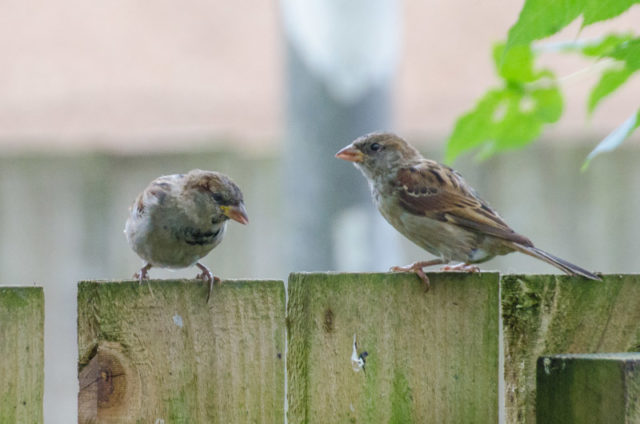 This time we were all up fairly early
Today our visitors were returning home, back down the long road south. It was a dull morning, but the 'going home' morning is always dull. After breakfast they packed the bags in the car and they were off, just five minutes after their predicted time. It must be a world record!
With the rest of the day to fill, we sat for a while listening to the thumps and bangs from the workmen next door installing a new boiler and complaining to anyone who would listen that this was the second one they'd done in two days. But work was waiting for us too. Scamp filled the washing machine and set it to grumble through the first of many loads. While she was hanging it out, I started to pick the peas which as JIC had predicted were beginning to grow hard. Hopefully we've got them just in time. Since there was little likelihood of the remainder of the few flowers that were left setting any pea pods, we cut the plants down, composted some and put the rest in the recycling bin. I freshened up the soil where they had grown and planted some more leeks. Remembering that I'd said I'd prune the roses round the back door after lunch.
Sat for a while on the back step watching the birds lining up to for their turn at the dire sourdough bread we bought in Stirling on Saturday. Although it's called sourdough, it's actually the yeast that's supposed to be sour. That's where those bakers made their mistake. Their bread was sour. Birds didn't seem to mind and today's PoD is of part of the queue waiting for their slice of the bread in the rain.
I started to prune the roses after lunch, but the rain got heavier, the clothes were brought in and hung to dry indoors and my loppers were put away for another day.
I spent the rest of the afternoon trying unsuccessfully to get an old Zip drive to spring into life. I now think it's a dodgy power supply that's causing the problem, but as it's a bit of an antique now, I think it will soon be consigned, like the pea plants to the recycling bin.
A thoroughly miserable day, but we did have a quick practise of our Jive steps, so hopefully we'll be up to the Seven Spins tomorrow. All Being Well.