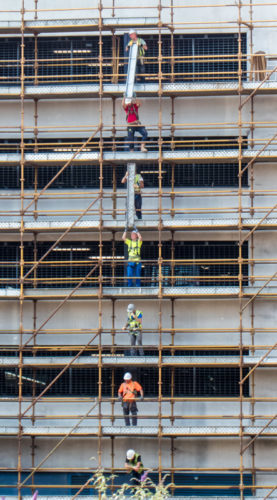 Today we managed Jive, Waltz, Quickstep, Tango and Salsa. In that order.
In Jive we worked the knots out of spins 1 to 6, then had a go at spin 7. We had been practising at home so it wasn't too bad. Spins 1 to 6 are fairly well set in muscle memory now, it's just remembering the order that I find difficult. However Michael's little short descriptions keep me right. It's a work in progress!
Waltz was similar in that we were neatening up our routine and trying to get round an entire circuit of the floor without bumping into people, but when other dancers just stop right in front of you to have a wee discussion about what went wrong with their last steps, it makes it difficult for you to get any continuity in your own dance.
Quickstep was a new one today. We only got the first few steps of this dance. To be continued next week.
Tango was going over the first three moves with the dramatic head turn Boom! Boom! (You had to be there to understand that!)
Salsa was in the evening but it was still a learning experience. I learned that I wasn't dancing some of my steps correctly, or to be more exact, I wasn't leading the moves correctly. Even although we are helpers at these lower level classes, there are always things to pick up on.
That made just over three hours of dancing and I still didn't complete my 10,000 steps today. Why, I do not know.
Between the ballroom class and salsa, I managed to get the PoD of the "Right Said Fred" men (the song, not the group) forming a human ladder to lift scaffolding pieces into place on a building that was being renovated in the Merchant City.
Also, I shelled half our peas and used them in a Prawn and Pea Risotto. I even used the chopped up pods to strengthen the stock for the risotto. Apparently it passed muster with Scamp. I agreed, but then I would, wouldn't I?
Tomorrow the physio and it's forecast for rain all day.