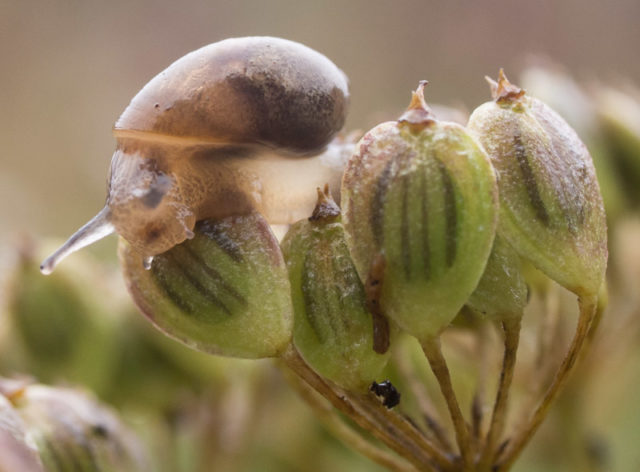 Very early this morning, about 6.30am to be more precise.
Couldn't sleep, so I did what I haven't done for a long time, I got up, got dressed and went for a walk in St Mo's. Sometimes it's really lovely and other worldly in the early morning light. Today was one of those days. I thought it was dew that was lying on the plants, flowers and spider webs, oh yes, the spider webs. However it was just raindrops. Light fine smirr of raindrops everywhere. Took loads of photos, mainly macros and it was one of them. A tiny wee wet snail that took PoD. I also some shots of Mr Grey, still looking half asleep, standing like a statue on a rock in the pond. Later I got a few of him stalking and catching his breakfast. The speed he can flash that beak out to trap an unwary fish is quite surprising. Came home feeling a lot better, but now tired, and had breakfast with everyone else.
After breakfast I went up to the police station to make the statement about the accident. Lady there took all the details, watched the dash cam video and smiled at the bit where I swore. Then she told me I'd be contacted in a day or two by a police officer who would go over the information with me.
By the time I was coming home, it was raining and the visitors were preparing to go and visit David Marshall Lodge or DML as we've always called it. If the weather didn't suit there, they had plan B which was to go in to Glasgow and visit the GOMA. As it turned out, plan B wasn't needed because they'd had a fairly dry day and they went from DML to the Kelpies in Grangemouth. While they were out in the countryside, Scamp and I drove to Torwood Garden Centre to buy some leek plants to replace the Calabrese I'd dug up yesterday after cutting the last heads from them. We also got a bay tree to replace the one that suffered in the drought a month or so ago. Scamp liked the look of some fluffy looking daisies, so we got them too. Then we had lunch and drove home.
When the wanderers returned we went to Milano for dinner. Pizza Napolitana for me because I like it and because I couldn't get a Neapolitan pizza in Napoli (Naples). We had a great night which culminated in a shocked look on Jamie's face when a birthday cake was brought out and the staff all sang Happy Birthday … but it wasn't for him! It was for a man at the next table. Jamie's look of relief was a sight!!
Nobody was drinking much when we came home. Long day for the visitors tomorrow 'cos they're going home.