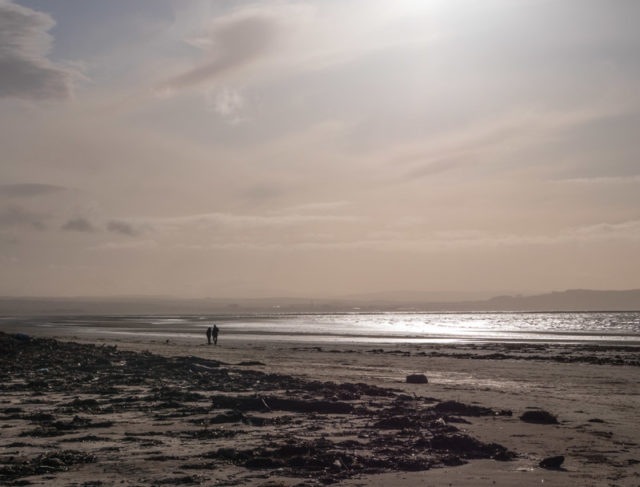 Today we had planned to go to Troon. For once that's exactly what we did.
Drove down to Troon on the west coast and actually got parked easily in the town. Went for a very cold walk along the front as far as the wind surfers' carpark. Part of it was almost painless as we were protected from the onshore wind by the three meter high sand dunes. The walk back along the beach was not so comfortable, but gave us an excellent view of the two windsurfers and the kite surfer who seemed to revel in the windy conditions. Got a PoD of two people walking further along the beach than we did. It looks as if it's a warm evening shot, but it was a bitter midday one in reality. Back in the car we drove down to Scotts for lunch.
We hadn't booked and I was beginning to wish we had when we saw the number of people going in to the restaurant with views across the marina. I needn't have worried, we got seated without a problem. Service was a bit slow, but then it was really busy. Food was excellent, as it always is here. Scamp chose Spinach and Potato soup followed by Smoked Haddock and Salmon Gratin. Mine was Spiced Cauliflower Beignet (a bit like mild cauliflower pakora) followed by Slow Cooked Beef Daub with Mash and Cabbage. Both meals were absolutely delicious, although my Spiced Cauliflower Beignet was that star in my eyes. Coffee to start with Tea and Coffee to finish. It was too cold a day for cold drinks.
Stopped at Morrisons on the way home for some essentials like bread and milk. Also filled up the Juke's tank and drove home through the occasional rain shower. It may have been cold on the beach at Troon, but at least it was dry.
Back home I found a letter telling me it was time for me to update my driving license as I am fast approaching the age when I have to confirm that I am a fit and able driver, but thankfully I don't have to resit the driving test. That might have been a problem.
Oh, yes and we booked our summer holiday. A good end to a sunny, but not exactly warm day.
Tomorrow we may go to the east, now that we've visited the west.