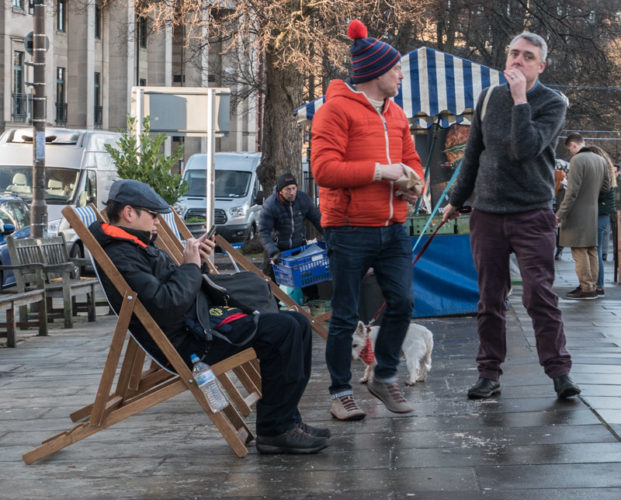 It's ages since we've been in Embra. Not since last year at least (Ha, ha).
Still sticking to the "Up and out before 11" mantra, we headed off for the 10.40am train from Croy. On the way we picked up the tickets for our London trip, so, a tick in two boxes. Fairly slow train, and in the same carriage as a foursome of what Scamp called "Apprentice Witches" who looked as if they were off on a Ladies Only weekend, lubricated with a bottle of cheap champagne. And why not, even ladies wot lunch are allowed a weekend off the leash occasionally.
Got off at Haymarket and were surprised with the number of polis in attendance, van loads of them. Hearts must be playing at home, I thought. I was right. Hearts were at home to Airdrie. We walked up and over to Nero on Lothian Road for our morning coffee. Suitably refreshed, we should have walked through the Farmers' Market and over to the Grassmarket, but today was different. Instead, we walked down to Princes Street and then along its length to The Bridges. Walked over The Bridges and on to the Royal Mile. It was cold. Not bitterly cold like it sometimes is in Embra, but cold enough to require my wooly Buff, wooly had and a pair of gloves. At least it was bright as well as cold.  Took some foties on the Royal Mile and then we ducked down to the Grassmarket. This was really strange. We were going in exactly the opposite direction to what we usually go and the vistas of architecture we were seeing were totally different to those we usually see. "A change is as good as a rest", they say and it was proving true. One thing didn't change and that was lunch in Petit Paris in the Grassmarket. Truly French restaurant with a French menu and served by French blokes. Scamp had Crayfish in Garlic Butter and a main of Salmon Fillet with Thyme served with mash. I had Garlic and Pea soup and a main of Beef Bourguignon. Both meals were just as good as we expected them to be. I even risked the wrath of Nick the Chick with a glass or red wine.
To continue our 'Wrong Way Round' walk, we walked through the Farmers' Market that was just starting to close for the day, and where I got today's PoD of a bloke enjoying the view of the castle from the comfort of a deck chair. Then out past the Usher Hall and back to Haymarket for the train home. A much quieter train home, now that the Apprentice Witches were suitably sozzled and off making a noise elsewhere.
Not a bad day. Pity it was so cold, but the lovely meal in Petit Paris made up for the lack of warmth. PoD was indeed the bloke on the deck chair, but there are others on Flickr if you care to visit.
Tomorrow we believe there may be dancing at the Record Factory.