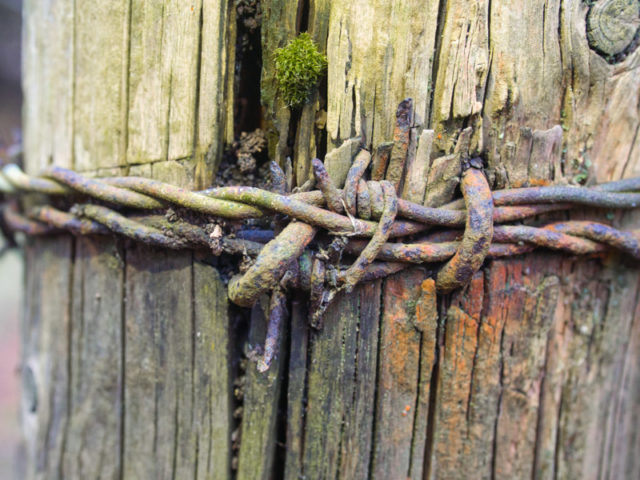 Not only was I out before 11am, I was out and back with a card full of photos by 11 today.
The sun was up and so was I. I wasn't going to waste good light like I did yesterday. Today I was going out to grab some photons and imprison them in an SD card. By the time I was actually going out, I could sense that the light was already fading, but undeterred I walked over the boardwalk and into the trees. I'd nothing really in my head for a photo, but as usual, I found some things. Mostly they were macro things. Wee things you pass by without thinking, but sometimes you have to stop and look and visualise what you could turn them into. That's how I got today's PoD. It's really just an old rotting fence post with some barbed wire wound round it. I liked the different textures in the shot, but light was low, so I used the torch on my phone to give me some much needed light. Later when I was scanning the shots on the computer I realised the torch light had created a green cast. It was fairly easy to remove, but in the process it accentuated the reds in the lichen growing on the stump and also the rust on the wire. That's what made it PoD. I could have turned it into a monochrome image, my first thought, but then I'd have missed those glorious colours.
Back home and after a morning coffee – much better today Hazy, we planned the rest of the day. I wanted a new pair of dance shoes. I'd say I needed a new pair of dance shoes, but 'wanted' is nearer the truth. I 'need' to get my old shoes re-soled, but another pair of dance shoes wouldn't go amiss. Of course, Scamp is aways on the lookout for a new pair of sparkly dance shoes. Drove to the shop following the satnav and found it without any problem. They had the shoes I wanted, but not in my size. Bummer. Worse than that, they were sold out of gents shoe soles too! Double Bummer. The lady took my name and number and said she'd contact me when the shoes came back in to stock, possibly next week. Meanwhile Scamp had chosen one pair for herself and was considering another pair. Eventually she decided to limit herself to just the one pair, with the option to think about the other pair as a possible purchase when I was going to get mine. Devious.
We decided to go for lunch to Frankie & Benny's for lunch. Since I was denied my dance shoes, I suggested we go to the Bishopbriggs site, where I could peruse the 'toys' in Currys after lunch. I'm not looking for anything in particular, but everything in general, usually the best time to window shop. That's what we did. The satnav again did the heavy lifting and found us a way across a gloomy and dull Glasgow to the retail park. Fish 'n' Chips for Scamp and Cheese Burger (No Mayo) for me. Lovely. By the time we were coming out, the rain had started. Saw lots of 'toys' in Currys, but nothing that was very interesting. Drove home through the gloom and the rain.
There was one more photo taken today and that was the new and updated Christmas Tree fairy. She's been in need of a makeover for many years and this year she got her wish. New underskirt. Newly washed (twice washed) dress and a new pair of sparkly wings. Most of the work was down to Scamp. Before she goes back in her box and into the loft until next year it seemed like a good idea to give her a photoshoot. I do believe she's smiling.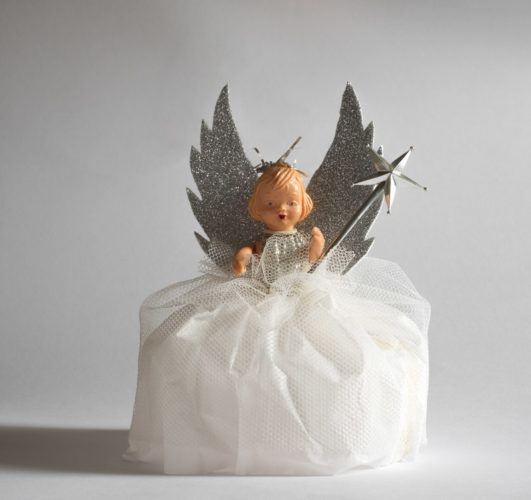 Tomorrow we may go out somewhere. It will be cold, but clear for most of the day according to the weather people. We'll wait and see.