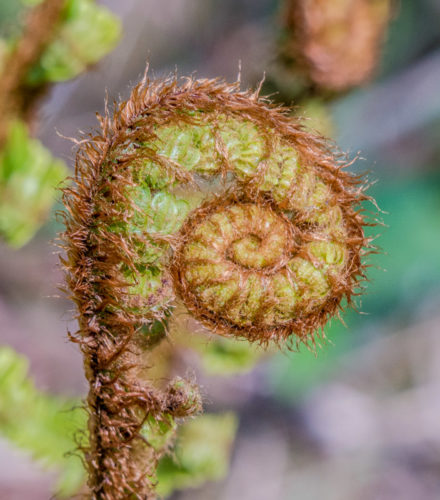 The weather was to be slightly more mixed than yesterday with some cloudy spells forecast for the afternoon, and that's the way it turned out.
I did some light gardening in the morning where I was decanting some of the compost from the bin into the raised bed while Scamp did the heavy work clearing the paving slabs in the back garden.  I also planted up some more Basil.  Gave up on the beetroot I'd planted last week and dug over the entire raised bed to mix the different layers of peat, home made compost and odds and sods of compost from the last few years.
After lunch I took a walk through St Mo's to get some photos.  Saw a couple of beautiful ferns starting to unwind.  Apparently the name for a rolled up young fern is a 'Crozier'  Like a Bishop's crook.  Didn't get photos of any damsels although I did see one.  Nor did I even see any hoverflies.  Maybe the prospect of cloudy skies made them hide, and the clouds did arrive almost perfectly on time.  They stayed for an hour or so surveying the scene from on high, then they went home for their tea.  So did I.
Well, actually I didn't have my tea.  I got dressed and went out dancing with Scamp to Arta, the new venue for a Sunday Social.  To say we were a bit ropey to start with would be an understatement, but by the time we were leaving we had gelled again and dancing much better.  How strange it was to walk through Glasgow afterwards in my shirt sleeves and short sleeves to boot.  Then, when we got home, I had my tea.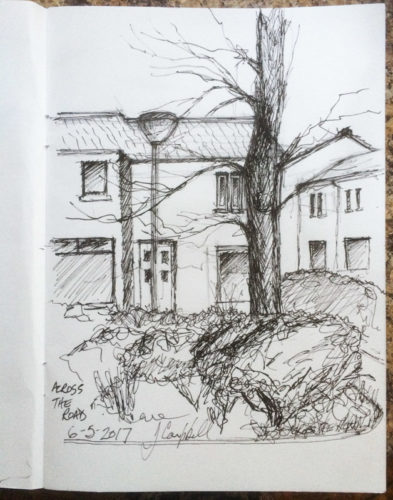 Yesterday's sketch did indeed make it to Ink 17 as you can see.  Although it's quite a simple sketch it does capture the feel of the place.  It's done and on time.  That could be the name for this challenge rather than 'Ink 17'.
Tomorrow?  Well, Gems are back, so I'll have to find somewhere to make myself scarce to.  Maybe I'll go investigating a new bit of wilderness, because the weather is set fair again.  So say the weather fairies.