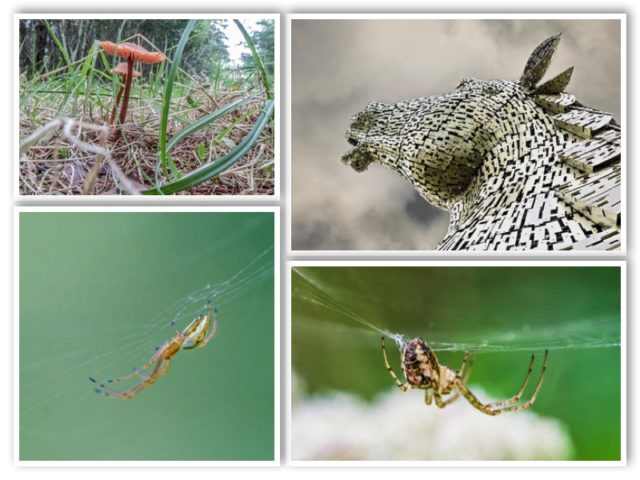 Scamp suggested we go to see the Kelpies this morning and it seemed like a good way to get out and about on a Sunday morning. So did lots and lots of other people.
Despite a bit of a queue, we got parked without any trouble after paying the £3 fee which is very good these days. The place was busy and there were two bus tours just arriving but it's a big site and we walked down to see the horses.
There really is something almost mystical about these statues. They make you smile for no reason. It's as if they're alive and watching you. Maybe watching over you is a better description, and going to see them is like going to meet old friends. It's a difficult feeling to put into words, but Scamp and I are agreed about this. We wandered round the statues and as usual, I was trying to find a new angle for a photo. I think I found one today and it became my PoD, but not before Lightroom had done a bit of work on it.
After the Kelpies, we walked along through Helix park with a sinusoidal board walk through the wetlands to a massive semicircular brick and stone windbreak sheltering large circular grassed area and a circular pond with a kids play park and a cafe within easy reach. There was a path round the pond, but as it looked like it would take a good half hour or so to complete, we headed back towards the car park. Why can't all councils spend their money on projects like this? Wouldn't it be good to have a facility like this rather than spending half a million on the ridiculous 'waves' that Cumbernauld had dumped beside the dual carriageway.
By the time we were leaving, the queue for parking far exceeded the spaces available, so the moral of the story is get there before 12noon or you will be disappointed.
After lunch I went out to St Mo's to calm down after another 'exciting' F1 GP. For such a high powered, enormously expensive sport, it can be like watching a procession sometimes and as most of the drivers are so far removed from reality, it's difficult to find any empathy with them. Who cares if Hamilton or Vettel wins? It will make no difference to the price of fish. St Mo's was buzzing with dragonflies, ordinary flies and spiders. I suppose it's not surprising if there are a lot of flies around, there will be a lot of spiders waiting to snap them up. However, it wasn't a spider I saw snapping up a fly, it was a dragonfly. A big green and white dragonfly was cruising up and down the alley between the trees and then it stopped in the air just beside me and grabbed a fly that had risen from a branch. Just like that. I had no time to take a shot, but I saw it right in front of my nose!  Oh yes, and the toadstool pic was taken with the Teazer with WiFi remote control.  So much easier on old knees!
That was about it for today. Got a painting started, but I'll have to fake a sketch this week. Nothing done so far.
Rain forecast tomorrow. Maybe going suite hunting again.