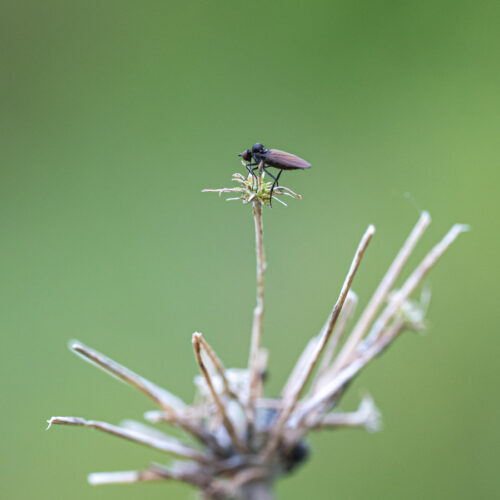 And stayed all day.
I decided that I'd let the day simmer along and hopefully the rain would stop or maybe I'd find something useful to do. The latter came first, but ultimately the former happened.
I had at least half a dozen boxes of bread ingredients that have been sitting on a unit in the living room for, well, ages. I picked the bottom one and started mixing up a loaf. The actual loaf was a Swiss Farmer's Loaf and it started out as a sticky dough and ended up looking nothing like the picture in the booklet said it would. I think this is only the second failure I've had. I say failure, but it was perfectly edible, it just didn't look like the book said. Probably my fault more than theirs. It was a good way to while away an hour or so of a day when I'd no intention of going out anyway, so no real loss.
After lunch it began to look as if the sun might just make an appearance, but there were no guarantees. Scamp had started making a couple of sultana cakes. She was halfway through the process when the mixer made a strange noise. When we let it cool for a while and tried again, the problem was still there. Another one with no user serviceable parts inside, so it was down to hand beating the mixture. Of course, I couldn't do that, so Scamp did it all by herself. Probably better really. I'd just have made a mess.
I went out for a walk in the drizzle with the Sony. Thankfully the rain soon dried up and left behind clouds of little flies that got in my eyes up my nose and into my mouth when I was walking. I did get a photo of a much less invasive fly. It just sat on top of a desiccated weed and allowed me to photograph it. It also gave me a chance to use some of the more esoteric functions of the camera. Only available if the correct buttons are pressed in the correct order. That's the Sony way! The fly became PoD. It was really tiny, about 3mm long. Got home to find Scamp's bread coming out of the oven, smelling lovely.
Dinner tonight was Fish 'n' Oven Chips. So much easier than deep frying and almost as good.
It was really dull for most of the day, but tomorrow looks a bit better. Hopefully I'm taking Scamp's wee red car down to the village to get a new exhaust, then we're booked for taking Shona to Falkirk. That's where the planning ends. We'll see what happens.