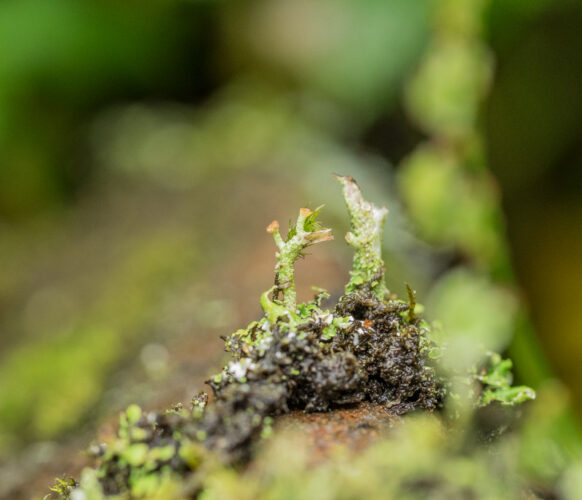 After a wee respite yesterday, the weather reverted to normal.
Yesterday was just a 'lucky'. Today it rained for most of the day, but there were a few intervals when the sun looked as if it was going to shine on us, but then it disappeared again.
It was my turn to cook from a trio of magazines. We'd both chosen things that sounded interesting and to kick it off, I was going to make Fennel, Leek and Smoked Salmon Fritatta. Unfortunately we didn't have any leeks or smoked salmon. We did however have a fennel bulb, so that was a start. After lunch we walked down to the shops in the rain to get the missing ingredients. Apart from the rain it was fairly pleasant. When you look out at the drizzle falling you instantly think of the cold and damp. It was damp, but not cold.
Decided I'd better go out and see if I could photograph anything interesting. I wasn't really expecting to see anything and I wasn't disappointed. Hardly a beastie was stirring today. I got a PoD which looks like a little stunted tree, but is actually a little stunted Cladonia lichen. That was about it. Stood and watched two guys racing their radio controlled petrol driven dune buggies over the BMX track. Incredible speeds they get up to once they've built up a head of torque. Some magnificent jumps too.
The Fritatta worked out well, although the instructions suggested a 15 minute bake in the oven at gas 4 (180ºc) and that was nowhere near enough. It took twice that long. It could, however be our oven that's at fault. If it says gas 4, we usually use halfway between 4 and 5. I've never managed to successfully calibrate the temperature settings. Maybe someday.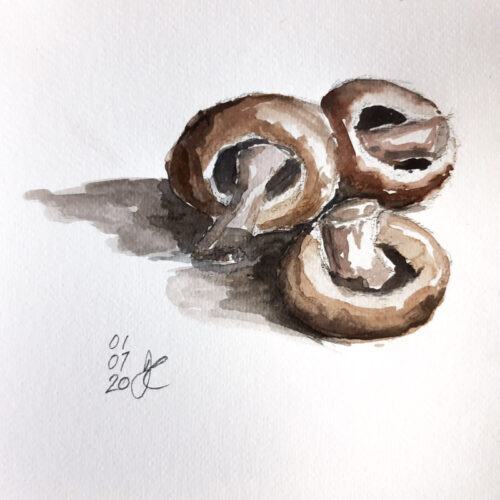 Sketch today was a trio of mushrooms that were heading for the compost bin until I retrieved them temporarily to paint them. It took two attempts and the second was by far the best. I used Cotman colours which aren't quite as strong as the professional range. I've run out of quite a few colours in the W&N professional paintbox and hopefully will get it refilled soon. Until then I'll use the Cotman colours. I also used Cass Art watercolour paper and it made a bit difference again.
Tomorrow we may drive in to Glasgow just to see how the city is faring. Some shops are already open and it looks like John Lewis is reopening on Monday. Things might be slowly returning to something like normal. Did I mention Cass Art opened today. That's got nothing at all to do with the intended visit to Glasgow. 😉