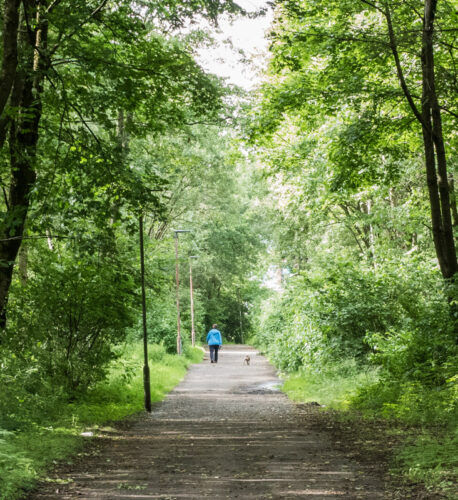 Not Glasgow or Embra, but the minor city of Stirling.  Granted City status by The Queen in 2002.  Queen Lizzie, not Nicola, who is the queen in waiting.
Today we went to Stirling for 'the messages'. Since we, the common people are still restricted to approximately five miles from home for exercise and recreation, we wouldn't be allowed to travel the fifteen or so miles to Stirling, BUT if we were travelling for essential food supplies, like Waitrose might have, permission is granted. We drove to Stirling. Parked at an almost deserted Waitrose and went for a walk in the city centre.
It was a bit strange walking past the closed up shops in the Thistle Centre. Y'see, according to Her Majesty Nicola's decree, only shops with an outside entrance may open. Those that only have an entrance to a mall may not. Since most of the shops in centre fail that test, they can't open yet. In fact, only Boots can tick that box, having an entrance to the pedestrian precinct through Boots Opticians. However, WH Smith was open and it doesn't have an outside entrance. Aha, but it does house the post office and that way it can thwart the rule. One rule for Post Offices and another for the ordinary shops. We didn't tarry long, Scamp didn't even go in to M&S.
We walked back to Waitrose and made a valiant attempt at buying it. I can't say Scamp did that on her own, I aided and abetted her, buying more than we really needed, but not as much as we really wanted. It felt very strange to me to be wearing a mask and taking care to dance around people in Waitrose. It put it down to accepting the queueing and the gradual return to almost normality in Tesco and the new shops, Waitrose was a known quantity in a known town. This was the first time we'd been there since about February and you grow to expect all the restrictions in the place you live in, but once you go to somewhere you haven't visited in a while, it feels a but alien almost. Maybe it's just me.
Back home and after lunch, Scamp went out to cut the grass. I did the strimming round the plant pots. I was also trusted with using the blower to scatter the loose grass cuttings to the four winds. I didn't realise just how strong the torque is in that leaf blower. It's a powerful motor.
Afterwards I laid in a sky for a wee acrylic painting that's been in my head for weeks. Hopefully the sky will follow tomorrow.
Headed off for a walk round St Mo's and got another photo of a grasshopper. It may be the same one, or perhaps it's a different one. I never got to find out its name. I thought it might make PoD, but that went to a woman walking her dog.
Not a bad day, and a day without any rain. That doesn't look set to last. More of the wet stuff on the way and we have no plans for tomorrow, even although Cass Art will be open tomorrow! Yes, I've checked and it does have the required type of entrance.