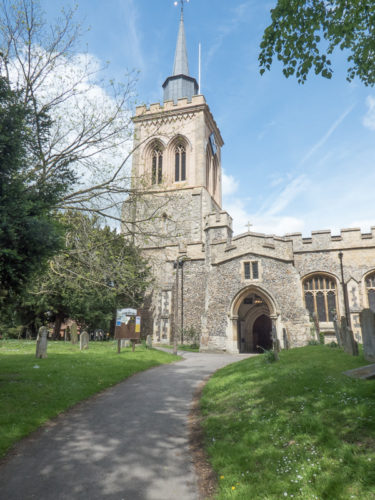 Not quite as good weather wise but still warm for us.
After a very restful sleep in the country with only the wood pigeons and blackbirds breaking the silence we woke refreshed. Once JIC had returned with Vixen from her morning walk we had breakfast and then got ready to go out.
JIC drove us to Baldock and while he went to get his hair cut, we had a walk around the town. Interesting church and churchyard which looked good in the afternoon sunshine. We all had lunch in Jack's, the Italian cafe in Baldock. We'd been there before and had enjoyed the repartee that's part of the fun in this cafe. We also enjoyed the food and especially the wine which Jack forgot to charge for, but we told him and got a "multo gracias".  With a quick visit to the butchers for JIC, we were on our way home.
Back home we split up. JIC and Scamp went gardening or to be more precise, they did some gardening while I accepted the technical challenge of putting up the pot rack. After an hour or so the garden was looking better, but the kitchen was a bomb site. However, the pot rack was up and secure. Then the Dyson cleaned up the mess. Done.
Before dinner we took Vixen for the same walk up to the top of the hill.  For the first time, Scamp and I got a chance to feel the pulling power of a Staffie.  I think JIC was right when he said that it was useful for pulling you up a steep hill!  Because the weather wasn't as kind as yesterday, the lighting wasn't as good.
Dinner tonight was Chicken with Sorrel on a bed of risotto.  Very nice again, but we all agreed that the taste of the sorrel was lost.  Pity.
Tomorrow we are hoping for good weather to go to a Steam Fair at Astwick.