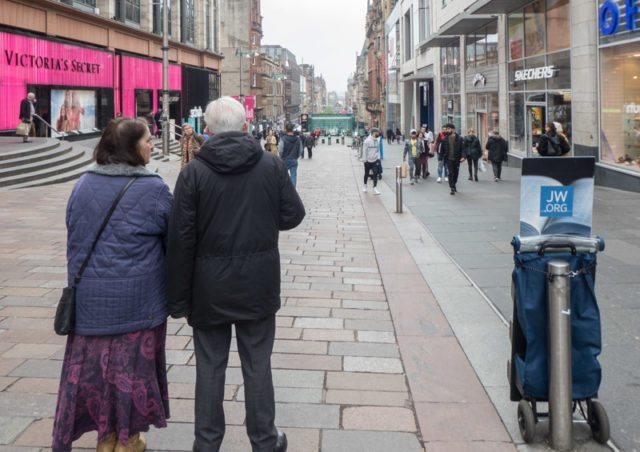 A day in town with the guys and being a good Samaritan.
Scamp offered me a run to the train station to have a 10min trip into Glasgow, rather than the 45min trip the X3 forces on me. I was meeting the Auld Guys for a few beers, some adult conversation and a cheap lunch. Before that I had some time to spare, so I went for a look in JL. Where I saw a bloke attempting to buy a camera for his daughter. She wanted one with a viewfinder, but the one he had his eye on didn't have one. The assistant told him that nothing in that price range had viewfinders. She went to get the keys to the cabinet to show him some considerably more expensive ones, that's when the Good Samaritan butted in. I pointed to a Teazer (TZ70) which was much closer to his price range than the £650 Sony the assistant was touting and told them that it had a viewfinder. Even better I had my Teazer in my pocket to show him. He seemed happy that it had a viewfinder and gave it over to his daughter so that she could try it. She said it was just what she was looking for. By then the assistant had returned and the man pointed at the Teazer in the case and said that "This Gentleman" (that's me by the way) "says that one has a viewfinder". The assistant agreed that the Lumix was a good make and confirmed that it did indeed have a viewfinder. I left them to test it out for themselves. I hate to see people being given that kind of sales pitch. A Gentleman and a Good Samaritan and it wasn't even 11.30am!
Met up with the other three in the Horse Shoe Bar. It looked like a pensioners day out today. Not one person under the age of 60 drinking in that bar. Val and Jack couldn't make it. Jim B couldn't come today for some undisclosed reason. Had a good gossip about school stuff we don't have to worry about anymore, then went upstairs for lunch. Three courses for a fiver! That's a cheap lunch. After that it was home time.
Fred and I got the train home and Scamp very kindly dropped Fred off before we went home too. A good day out.  Scamp had managed to get the grass cut while I was away and just in time too, because when we were going home it started to drizzle.  It's good for the garden!
Today's PoD was taken from the top of Buchanan Street in the town.
Tomorrow it's dancing again. Hopefully better than last week.