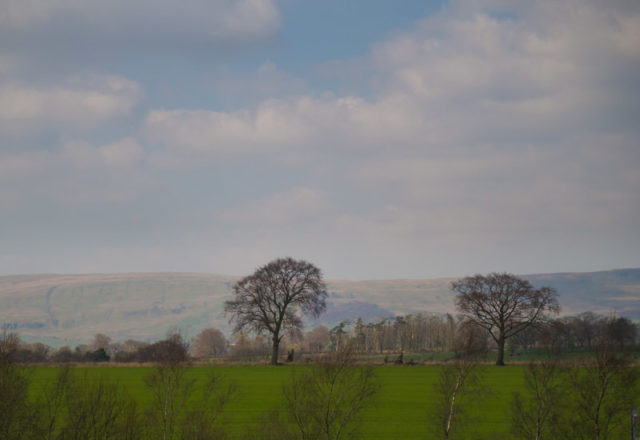 In the morning we went to buy Waitrose.
We didn't totally buy Waitrose, but we made a valiant stab at it. We also walked into Stirling and had a coffee. A lazy morning.
In the afternoon, Scamp just failed to get the grass cut before the competition, the next door neighbour, got started on her smaller grass patch. While she was doing that, I took the Dewdrop out for a run. Didn't go far, didn't want to push things too early. Just went as far as the old dump and got today's PoD there. I had to crop the bottom off the landscape to remove the unsightly cables for the 'leccy trains. Still looks an inviting scene in my eyes. On the way back I sat and watched Grebes fishing in Broadwood Loch. They can stay underwater for 20 seconds! Quite amazing. It was a beautiful afternoon. Warm sunshine, but a cooling breeze.
Made some Beef Clives (Olives to you) tonight and am just about to put them in the freezer. Scamp made Chicken Milanese with new potatoes and spiralled veg. Damn spiralizer didn't work properly. It would appear that the microswitch in the 'safety' feature isn't seated properly because it's very safe. It doesn't switch on properly. It cost us eight quid too! It's going back.
Not the busiest of days, but the bike got an airing and Scamp got the front grass cut. I also reset the name servers for my webspace (whatever that means), but I don't think the changeover is complete yet. Maybe tomorrow.
Tomorrow we have that wonderful thing – No Plans.