Today, for the first time ever, or at least for a number of years, the Tour of Britain cycle race started from Glasgow.
We drove in early to be sure of getting a good place and spent an hour or so wandering around the pits, with me marvelling at the equipment on display.  All of it shiny and clean.  Something you can't say about my own bike.  There were bikes everywhere.  On the team cars there were wheels, frames, complete bikes.  Enough to cover every eventuality.  As well as equipment, there were also the mobile homes for the teams.  Scamp was wondering why someone called Wiggins needed two mobile homes, and if he was actually in one of them.  The enormous crowd round them seemed to think he was.  I did actually grab a shot of him later in one of the race pics.  Unfortunately, I wasn't actually focusing on him, but rather on the rider behind him as he was wearing a white top that helped the camera achieve focus better than on the superstar in front.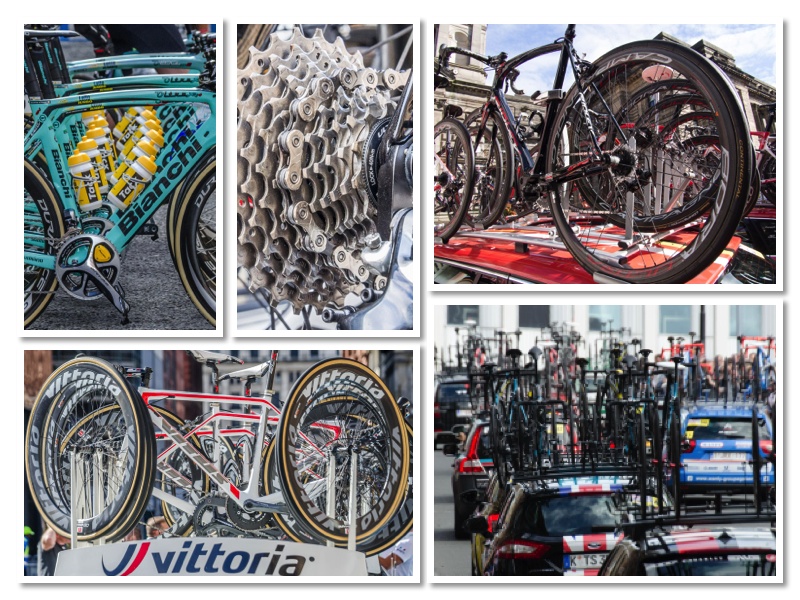 After our *'pit walk'* we walked over to the corner of George Street and Montrose street to get a good view of them coming along the straight.  After the usual preliminaries of motorcycles, polis and team cars, the juniors came through, followed a few minutes later by the professionals.  That's when I noticed the error on the card – not writing!  Flicked the card out and wrote to the other card.  One big benefit of the D7000 is its two card slots.  I got a few shots there, but they were only cruising at this time, just the warm-up for the real race.  After the warm-up we had a few minutes to choose a different viewpoint and I moved round the corner a bit to get some shots of the riders coming round that tight bend before climbing up the fairly steep hill towards Cathedral Street.  Scamp stayed almost where she was to act as a spotter!  We had a bit of entertainment when a guy on the First Aid bike bravely pedaled up Montrose Street to a massive cheer from the crowds.
Scamp tipped me the wink that the peloton was coming and I got ready.  Hammered off about ten shots as they rounded the bend and hoped for the best, then the camera jammed.  Don't know yet what it was.  Yes, the buffer was full and emptying itself, but the lens wouldn't focus.  Swore for a bit, but I'd got most of the photos I wanted.  Then as mysteriously the problem went away and I got some shots of the cavalcade of team cars driving up Montrose Street.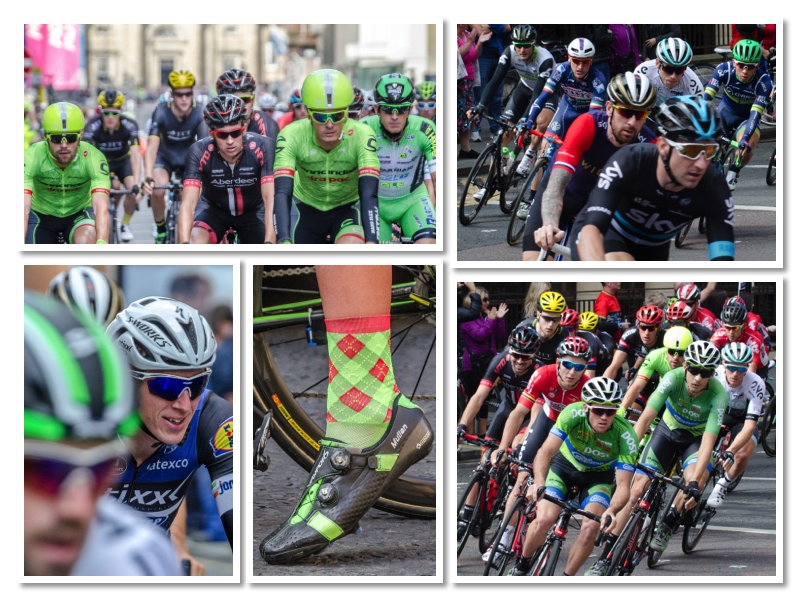 I thought they had another lap to do round the city centre circuit, so we wandered down to Ingram Street, but they had gone past on Clyde Street and over the bridge heading for Castle Douglas and we were heading home.  Before we went I got a photo of a bloke standing across the road.  We're both sure it's Scamp's cousin, an ex-polis who took early-early-retirement and went to live in Spain.  Home on holiday or another Brexit Exit?  We'll never know because she wasn't absolutely certain it was him.
Had lunch and watched another *'exciting'* F1 GP, at least that's what the over-enthusiastic Ben Edwards told us.  I think he must have been watching a different race, or maybe you just had to be there.
Sunday Social in the early evening was good, except there seemed to be two salsa tracks to one bachata which became boring after a while.  One or two bachata dances a night are good enough for me.  Tonight was overkill.  We think someone wanted extra practise time.  Spoke to Carol and Ailsa whom we haven't seen for ages.  Sti.
Rain forecast for tomorrow, but it had been a lovely sunny day today.  Just right for a nice bike ride.