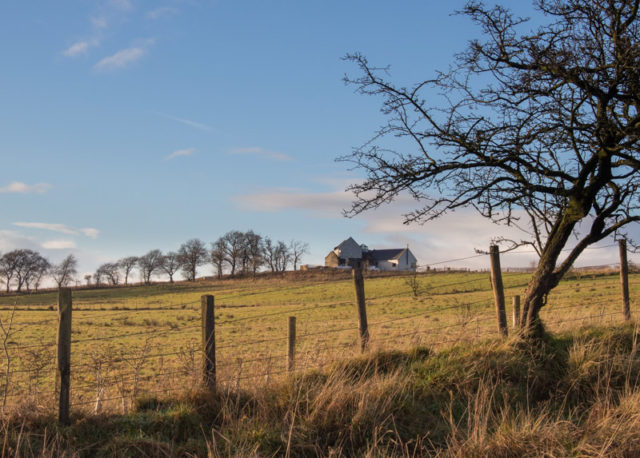 Blue skies for a while today. Maybe Hazy was right, maybe this is Spring!
This morning, Scamp drove up to see what was left to buy in Tesco. The answer was "Not Much", but she bought it anyway. I stayed at home nursing a sore throat. Heaven forbid I've caught her cold. When she returned it was my turn to go out. I drove out to B&Q and got some rat and mouse poison. If they are avoiding my traps, maybe it's time to bring out the big guns. Chemical weapons, WMDs. I'm reluctant to use dirty tactics, but as someone said "They're living in my house and they're not paying rent." So I baited the box and placed it in the loft secured by a couple of strips of duct tape. Have you ever tried using duct tape while wearing latex gloves? It's not easy. If your mind drifts to more erotic images, forget it. This was fully clothed, in a cold loft, surrounded by itchy fibreglass insulation and a few mouse droppings. There, that should clear things up. Set another trap where I thought I heard the little blighter last night. I'll leave the latest devices in place for a day or two before I check them again.
With my chemical weapons in the boot, I left B&Q and drove up the Arns Road. It's a mile and a half of single track road with no passing places behind Abronhill. Lovely low angled light from a sun that was heading for the horizon and I managed to get a couple of shots of a new build house on a hill. One of the shots was out of focus, so luckily the other made up for it. Squirted it through Lightroom and it came out looking like the one at the top of the page.
Came home and after solving today's Sudoku, it was time to get ready to go to J&M's in Hamilton. Lovely dinner there and a chat with Laura who was home for Christmas. Unfortunately the effervescent Ross was otherwise engaged tonight, so no tall tales from him.
Left just before 10pm as Scamp was beginning to suffer from her cold again. I'm hoping I've sidestepped the worst of it, but just to be sure I'm having a little whisky nightcap while I write this with the option of a double dose of vitamin C afterwards.
Tomorrow all depends on the weather. Hopefully it will be like today's morning and afternoon (sunny) and not like tonight's drive to Hamilton and back (wet). It also depends on Scamp's cold.