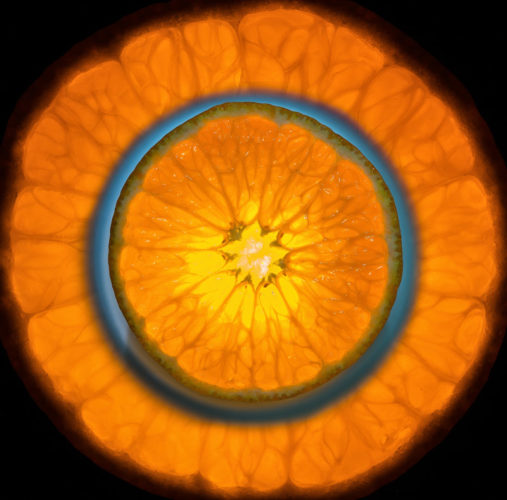 Full on dull dreary day. Needed some sunshine. Made my own.
Out early, well, early for me and out to Muirhead to get some meat for my Christmas Day dinner. Scamp was still in bed nursing her cold that doesn't seem to have gotten any better overnight. An extra hour or so in bed wouldn't do any harm.
Got to the butchers just after 10am and the queue was already the full length of the shop and it's a fairly big shop. Lots of women serving and lots of butchers butchering and lugging great bags of different meats around. Not a place for vegans I fear. Despite the length of the queue, I was served quickly and soon I was out the door with my carnivore's delights.
Drove home by the scenic route, but the low cloud, the poor light and the heavy rain put paid to any chance of a quick photo. So be it, maybe there would be a break in the clouds later. By the time I was home, Scamp was up and ready to go and buy what was left in Tesco. I had a coffee and started to work on using my old Samsung tablet as a screen for the Pi. Finally got it working, but it's not the swiftest of cobbled together technology. It will do for now because it means I'm not hogging the TV.
I'd just finished squeezing my steaks and sausages into the freezer when Scamp returned with Tesco in two or three carrier bags. Lunch was a roll 'n' sausage for me and a roll 'n' egg for Scamp. We do eat well! Messed around with the new Toy in the afternoon because there wasn't a hope of getting an outdoors photo.
Spoke to JIC who was on his way with Sim to Toronto hopefully if the drone that's buzzing Gatwick runs out of battery power for an hour or so.
Tonight I cut a tangerine in half, then made another cut across the base. Sat the whole thing on a wee LED lamp and photographed it. That's today's PoD. Of course there's a lot more to it than that. There's at least two hours of post-processing and a fair bit of swearing too. However, it did bring a bit of artificial sunshine into the day, the shortest day.  From now on the light will be returning to our dark and gloomy land.
Scamp's sister got out of hospital tonight and is back in the caring arms of her family. I thInk Scamp may go and visit with the mandatory black grapes tomorrow. Otherwise, we have no plans for tomorrow.