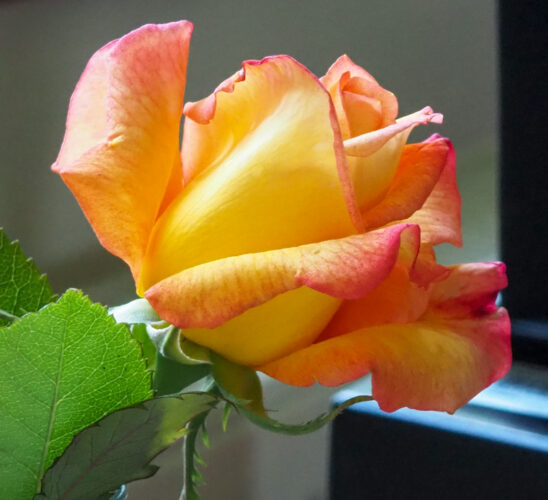 Since early April I've had a gift card that's been "burning a hole in my pocket." My son and daughter collaborated and gave me the card as part of my birthday presents intending it to be used to pay for an espresso machine to replace my old and failing Gaggia. Unfortunately just after they bought it, Covid-19 took over the world and all the shops closed. Of course I could have used it on-line, but being an auld guy, I like to see and touch what I'm buying, so I waited and waited and I pondered. I changed my mind umpteen times, but in the end I got it down to two machines. Today I chose the De Longhi and it's lovely. So small, so compact and yet so versatile. Starts in a flash and produces good, strong coffee. It was worth the wait to have a second birthday three months after the first! Thank you again Hazy, JIC, Neil-D and Sim (alphabetical is the fairest way!).
We'd driven in to Glasgow in the morning to have a look in John Lewis although I knew they didn't have any in stock, because I'd checked before we went out, and so hadn't brought the gift card. They lied. Not one, but two boxed machines sitting there large as life. Still the visit wasn't wasted because Scamp managed to buy 'a few things' in JL. She went in to Lakeland to buy cling film and came out with a skillet (fancy name for a frying pan) too. We drove home. After lunch I made my decision, grabbed the gift card, drove back to JL and bought the machine before anyone else could deprive me of it.
Spent what was left of the afternoon building it up and making a mess of coffee all over the kitchen. The De Longhi is a bit more complicated to work than the old Gaggia. I imagine once you've got it set up to your specification, all will be well. I've had over ten years of adjustments incorporated into the Gaggia and when it's on song, it produces good coffee. I've yet to hit that sweet spot with the DL. It'll come. We just have to discuss things, DL and I and come to an agreement. A meeting of minds, coffee minds.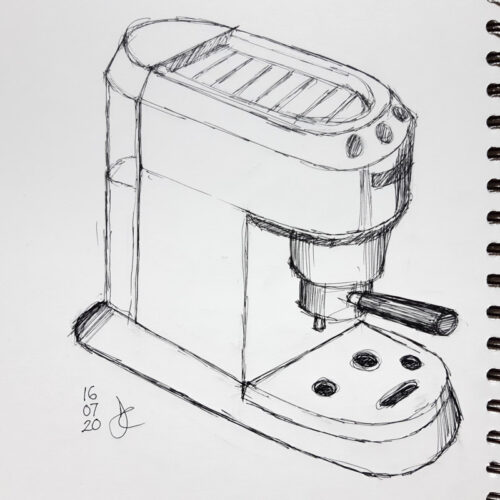 I'd grabbed a picture of a Grey Glasgow from the Buchanan Galleries bridge, but realised it was almost an exact copy of one I'd taken before at least twice. It just like the front cover of Deacon Blue's 'Raintown'. Dull, dull, dull. When I was puzzling over the instructions of the DL for the umpteenth time, I notice two of Scamp's roses glowing in the sunshine which was streaming in the window in one of the few dry spells of the day. Grabbed a couple of shots and one of them made PoD. Sketch of the Day just had to be the New Toy.
Tomorrow we have no plans although Shona might be coming for lunch. Ben's off on holiday at his dad's and Shona's got 'an empty'!