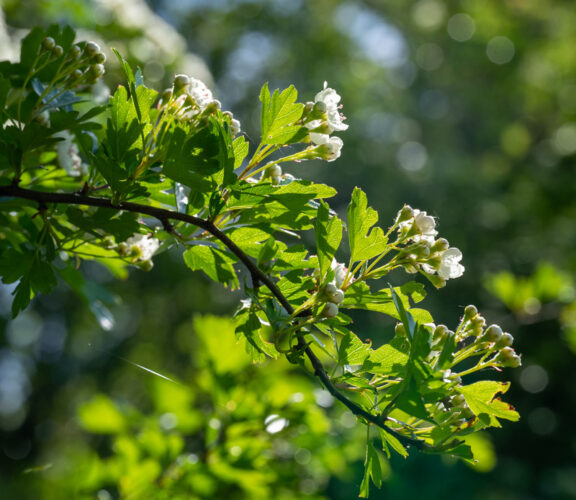 Up fairly early and out for a walk in the woods.
Scamp drove us to Drumpellier where we joined the conveyer belt of folk out for a walk in the sunshine. It really was a beautiful day and there were literally hundreds of people in the park, all carefully socially distant. How many times have we walked on that same conveyer belt but never investigating the woods? What an opportunity lost. This was our third trek into the cool shade of the trees. Lots to see if you look. Today we saw a Jay. Years since I've seen one with its bright blue band on its wings. Almost got a shot of it on the wing and looking as if it was heading straight for me, but it was out of focus. I did get a static shot of it and, although you can see the blue stripe, you can't quite see its head because it was in shadow. Pity. We walked on and tried a new path, but found it just lead on to the road backtracked and found a path we'd been on before. Followed if for a mile or so then chose a new one, just to see where it went. It turned out to circle the cricket pitch we'd found last time. From there, all the paths were ones we'd already investigated. Walked back to the car and stopped for an ice cream on the way. The place was even busier now. There was even a bloke busking to a pre-recorded backing track. Never seen that in Drumpellier before. He didn't seem to be making much.
Back home and after lunch Scamp got the folding seats out and set up in the sun. It seemed a sensible way to spend a warm afternoon on the last day of May. The month started with us driving down to Irvine to go to the first High Tea of Peter's two day birthday. Along the way it had been a month of stretching our wings, getting gradually further away from the house and the walks round Broadwood, although the weather hadn't always been great. Wettest on record some said, but it was dry today and the sun was out and I was listening to Rebus on my headphones.
Later I went out for a walk because I wasn't sure I had any decent shots from today's walk and could hardly believe that there were two dragonflies circling the small pond the boardwalk crosses. They were busy making more dragonflies, so paid no heed to me, but were far too far away and too fast to catch with a camera. I did see a couple of damselflies too, but they were too skittish, probably avoiding the bigger dragonflies. The best shot I took was just a branch of May blossom. It looked ok.
Dinner tonight was a salad with tuna pasta and curry rice which was just ok. Scamp had boiled the rice earlier and I added the curry powder and some curry paste, but it didn't taste like I expected. However the pasta was lovely and worked so well on a warm day. We sat outside for a while to soak up some extra rays, but I nearly fell asleep and we retired to the house to tidy up and for me to get started on the last EDiM drawing of 2021.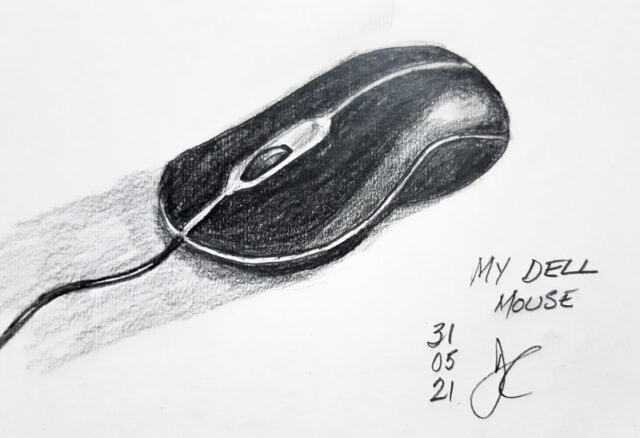 Today's prompt was your computer mouse. Rather than draw my usual mouse I drew an old corded mouse. It works when no other mouse will. It's not as flaky as the Apple Magic Mouse 2 and it doesn't use batteries that fail when you really need them, like the Logitech ones. There's a place for old tech, even these days.
Tomorrow we're hoping for another good day and we're hoping to get out for a walk.