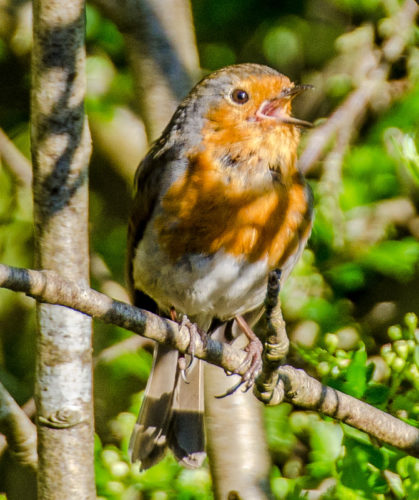 Woke about 7am and couldn't get back to sleep.
It was just too warm.  Not a complaint we usually have in Scotland in May, but there it is.  Decided I wasn't going to get back to sleep any time soon, so got dressed and took the 'Big Dog' for a walk through St Mo's woods.  That's where I found Robin singing his wee heart out and a bit further on I saw the green shoots appearing everywhere like little Bonsai trees.  Lovely light early in the morning when other folk are rushing to get to work.
Came back and processed the photos, then had a shower and breakfast in that order.  Always do the photos first.  Got an email from Hazy suggesting I look to Argos for an Amazon Fire Stick.  Logged on and ordered on in less than a minute.  Job done.  Thanks Hazy.
We couldn't decide where to go on such a lovely day until I suggested Dunfermline and that became the chosen place.  Also decided to go on the bus all the way, stopping off in Cumbersheugh town centre to pick up the Fire Stick.  I've worked out why they are in such short supply.  I think it's the Cumbersheugh Villagers who are buying them, thinking they will produce fire.  Somebody should tell them about disposable lighters.
Got a shoogly bus to Dunfermline and walked down the depressing main street after a coffee and a bun in Nero.  The park was full of weans, and I mean full.  There must have been about a dozen schools involved in an orienteering competition.  It was mayhem with weans running everywhere.  We wandered round the formal gardens because the glasshouse closed early on a Friday.  The place was looking a bit untidy with a lot of weeding needing to be done.  Not that I was volunteering to do any, I've done my bit for the week.  Walked back and had a beer (or a Rum 'n' Coke) outside.  OUTSIDE, in the sun!  Then Scamp suggested that we just get the bus back to Glasgow as there were some things I needed to start my mammoth sewing adventure.  I needed tracing paper to trace the pattern.  I also wanted some Indian ink for sketching.  So it seemed like a good idea.
Got the bus back to Glasgow and once I'd got the tracing paper, we went to Paesano for a late pizza lunch before getting yet another shoogly bus home, setting up the Amazon Fire Stick (which doesn't produce fire, by the way) and watching another episode of Lucifer in beautiful HD.  After that we found a video about a salsa competition that was 'enlightening'.  I'd seen the lifts on Strictly, but they were child's play compared to what these nutters were doing.  So far we're both impressed with what this forty quid black box can do.
Tomorrow may be a stay at home day with a bit of light gardening for Scamp with some Pims as a refreshment and some cycling for me if the weather holds.