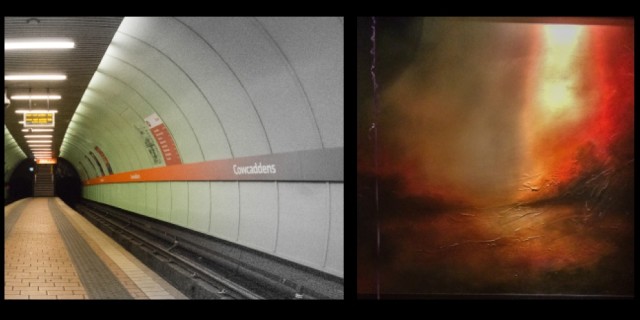 I had to drive in to Glasgow today to go to a curry making afternoon at Cafe India in the city.  It was a really interesting two and a half hours which started with making pakora – Potato, Spinach and Chicken varieties.  After we sampled them, we moved on to mains.  I made the Lamb Lazees (pronounced Layzee) which was really rich and a little bit creamy.  I think I'd he hard put to make it myself, but it was an experience discovering just how quick these dishes are to make.  Granted the meat was all pre-cooked, but one woman was vegetarian and she made a standard vegetable curry in the same time as the rest of us, which was about 10 minutes.  Next was a demonstration of making nan bread and chapatis.  We didn't get a chance to make our own, probably on health and safety grounds as the tandoor oven operates at 300ºc!  Finally we had a sit down lunch where we got to eat the fruits of our labours.  I've told Scamp that the next time she sees this offer, she should go and then we can compare notes.
We should have gone to the Sunday Social today, but I couldn't be bothered and Scamp was feeling the after-effects of yesterday's late night at Kul's surprise birthday party at Gusto in Bothwell Street in Glasgow.  Table should have been ready for 7.45pm, but the restaurant were running late.  Finally got our mains at just after 10.00pm.  I don't think we'll be back there again.  My main was good – roast chicken, but the meat was finished before they brought the potatoes and veg.  Totally disorganized and not cheap either.  So, we agreed to forego salsa but did have a practise at the bachata steps we learned last week.
Only got one shot today in a dull rainy Glasgow.  It wasn't raining in Cowcaddens underground where I got today's PoD.  It should have been the full view across both tunnels, but I was rushing and didn't notice the camera strap obscuring the left hand tunnel.  One of the problems of the 9mm lens is the remarkable field of view.  Sometimes it's too big a field.
Saw a couple of lovely paintings in the restaurant (top right) and tried to copy one tonight.  Not totally successfully, but an interesting diversion from my usual "style".  Yet another work in progress.