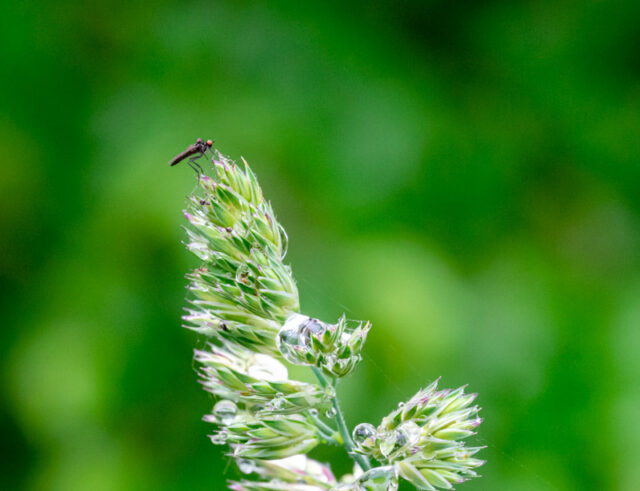 A lovely day for Father's Day.
A fairly relaxed start to the day, waiting for the Zoom call at 1pm. Unfortunately I got a message from Hazy, who had organised the Zoom call, to say she wasn't feeling well and would speak to me later in the week. That was a pity, but some things cannot be avoided.
I was having lamb neck fillet for dinner and it needed a bit of preparation. Crushed Rosemary, Pepper Corns, a Garlic Clove, some Thyme, a pinch of Salt and a drop or two of Olive Oil in a mortar and pestle. Then rubbed the mixture into the meat which was left to marinade in the fridge. With the messy stuff done I could concentrate on typing up more of the blogs from the last few days. Then I needed a walk, so I took the Sony and the macro lens for a walk in St Mo's.
There wasn't much sun in the afternoon and as a result not a lot of insect activity. I focused (no pun intended) on some tiny wee flies sitting on grass flowers and also on some umbellifers like wild carrot. The one that became PoD was the wee fly on the grass stem, mainly because it was Scamp's favourite.
Back home Scamp was tidying up after her flowers! The massive flower heads of the peony roses in her latest bunch of cut flowers were casting all over the floor. Such beautiful flowers leaving such a beautiful carpet of white everywhere. They really should be more careful!
Soon it was time to start the dinner. Scamp was having Trout as her main and we were both sharing potatoes and cabbage. I used my fancy grill pan because the lamb had to be browned first on the hob and then cooked in the oven. Both meals turned out fine.
Dancing tonight started with a Rumba One then a jive version of the same thing. Next was the Foxtrot with its complicated (for me) step routines. We just don't have enough space to complete the dance. Not enough length and not enough width in the living room. However, I think if we practise the new part of the routine we might be able to fit it in to the space we have available. A quick reprise of the Cha-Cha finished off the torture lesson for tonight.
Spoke to JIC later and complimented him on his strawberries. We might get two berries form our hanging baskets this year. Not a lot else happening down south, it seems.
Watched a F1 GP from Paul Ricard circuit in France that started with a mistake by Verstappen and ended with a tactical error by Mercedes. Between those events it was a pretty dull race, but an exciting finish by Verstappen was worth waiting for.
Tomorrow we're getting our next four-weekly visit from the lady who offers us the chance to stick a cotton bud down our throat and up our nose. Oh what fun!